To become one of Vietnam's internationally standardized spinal chiropractic clinic systems and provide optimal treatment effectiveness while enhancing the patient experience, USAC Chiropractic continuously improves and upgrades general standards in all critical areas according to the strictest standards.
Information on the doctors' team:
The team of foreign doctors graduated in the following specialties:
– Spinal nerves at the Southern California University of Health Sciences, Life University
– Practical Physiology at Temple University
They have obtained certifications as specialized spinal nerve doctors, national spinal nerve therapy evaluators, and certificates from the California State Spinal Nerve Evaluation Board.
They have over 20 years of experience in spinal nerve therapy, specialized muscle treatment, motion therapy, clinical expertise, and practical knowledge in Health and Sports.
In addition to their professional experience, the doctors at USAC also participate in notable activities in other fields:
– Members of the International Speakers and Trainers Association
– Assistant basketball and track coaches
– Volunteer athletes
About the treatment protocol
Each patient treated at USAC Chiropractic is directly examined and provided with an appropriate treatment protocol by the experienced American and European Medical Council. The protocol is designed based on the patient's pathology, condition, preferences, habits, Etc., to promote individualization and optimize therapeutic effectiveness.
The treatment protocol includes the four most advanced treatment technologies for musculoskeletal patients:
– Chiropractic: Adjustment aims to realign the spinal structure, relieve nerve root compression, and stimulate the body's "self-healing" ability.
– Physical Therapy: Physical therapy helps eliminate muscle stiffness, provides deep muscle relaxation treatment, and promotes blood circulation without causing side effects.
– CNC Therapy: Advanced medical technology system accelerates recovery six times faster than expected.
– Therapeutics: Therapeutic exercises improve comprehensive motor function.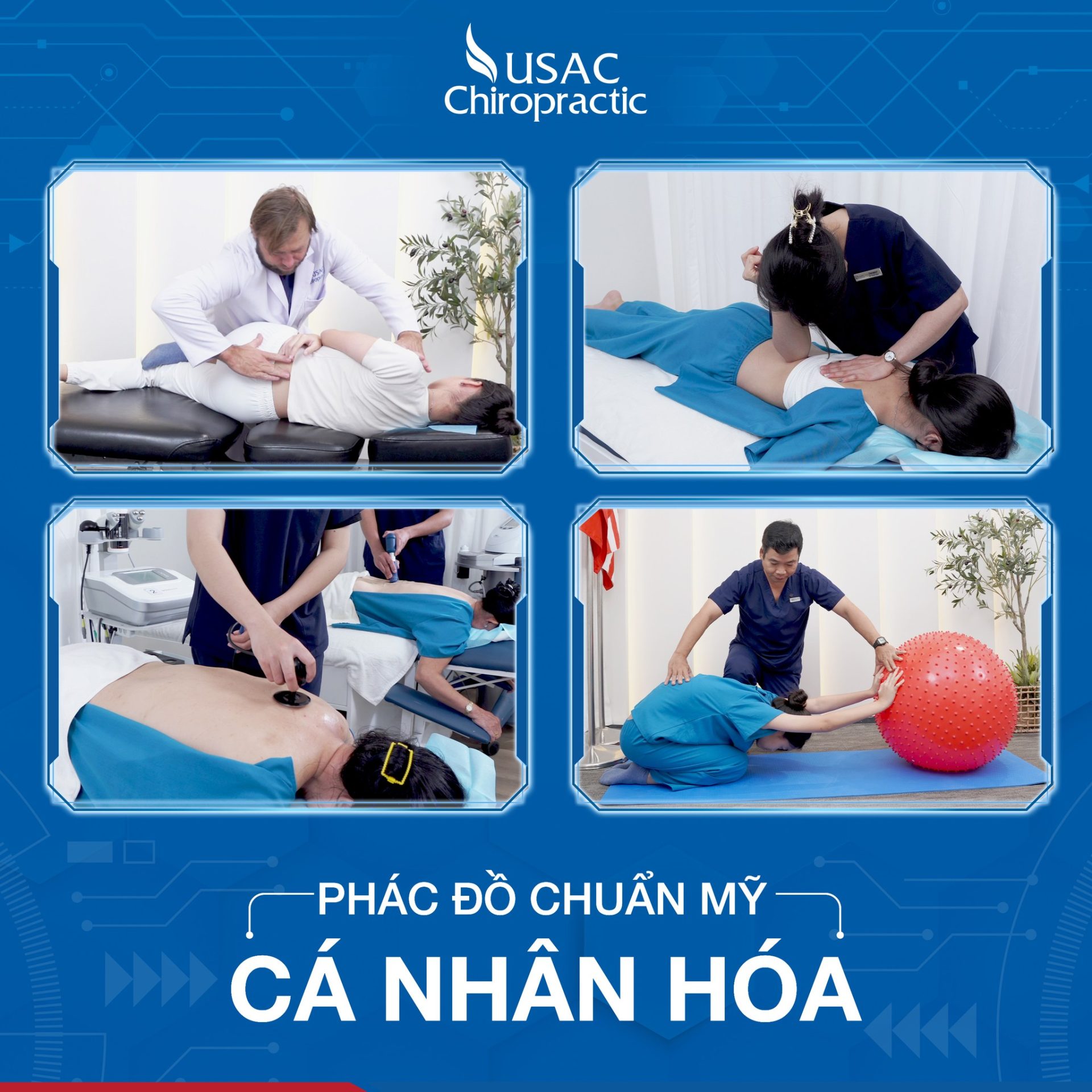 Personalized regimen for each patient
About the team of physical therapy specialists
All physical therapy specialists at USAC Chiropractic undergo comprehensive and systematic training in high-quality techniques and specialized knowledge in functional rehabilitation and high-quality physical therapy. In addition to the standard requirements for expertise, physical therapy specialists are continuously trained in practical skills, medical safety-quality regulations, and the transformation of structural diseases, aiming to achieve the highest therapeutic effectiveness for patients.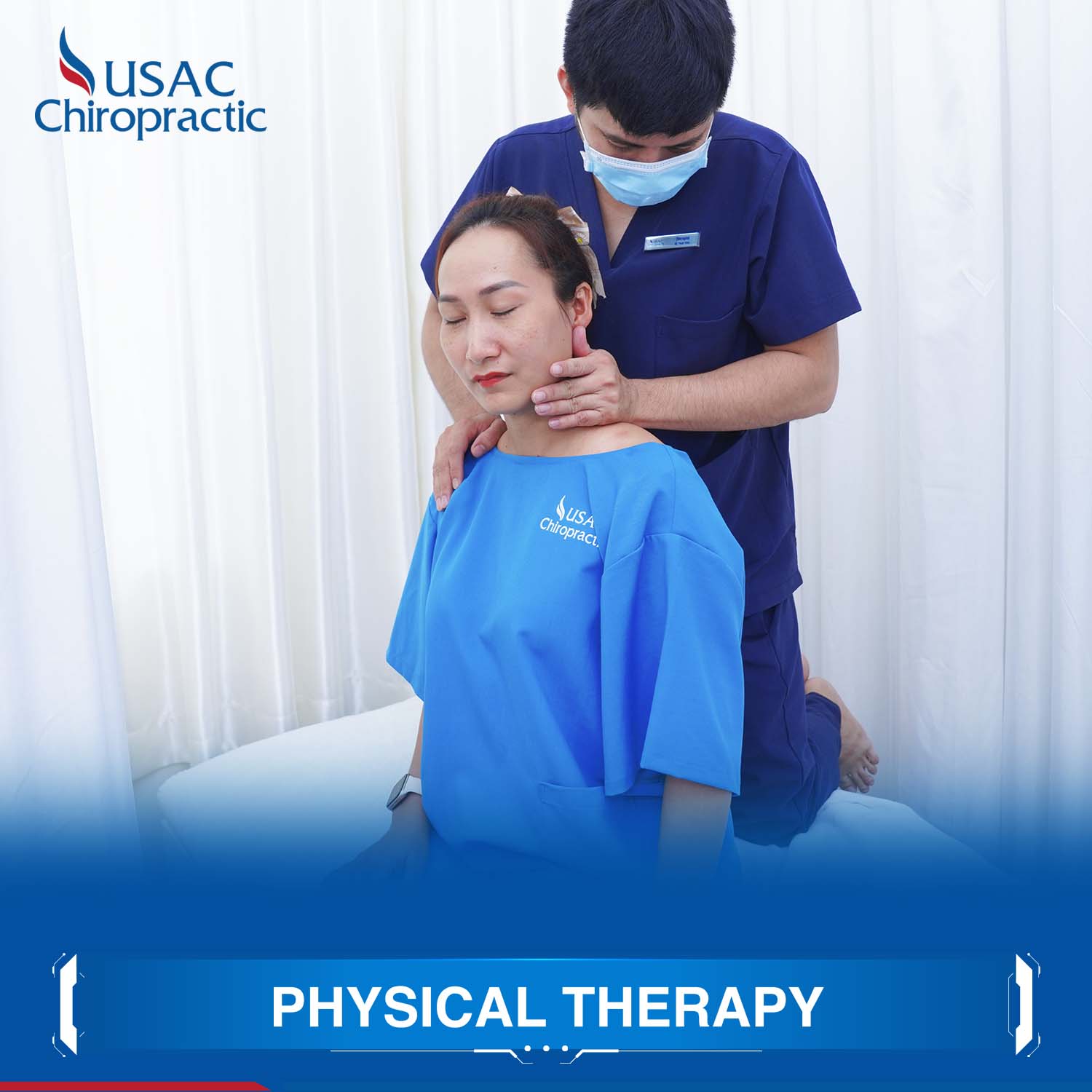 USAC therapists graduated from USAC Academy
About the treatment process at USAC Chiropractic
Patients who receive treatment at USAC undergo a safe and confidential treatment process that meets the standards of a 5-star hotel within a medical-standard examination, consultation, and treatment space.
The international standard treatment process at USAC Chiropractic consists of 5 steps:
Step 1: Assistant doctor receives the patient's information
Step 2: 1:1 examination with American-European doctors
Step 3: Treatment with specialized protocols for each patient
Step 4: Home care guidance by experts
Step 5: Follow-up and re-examination as instructed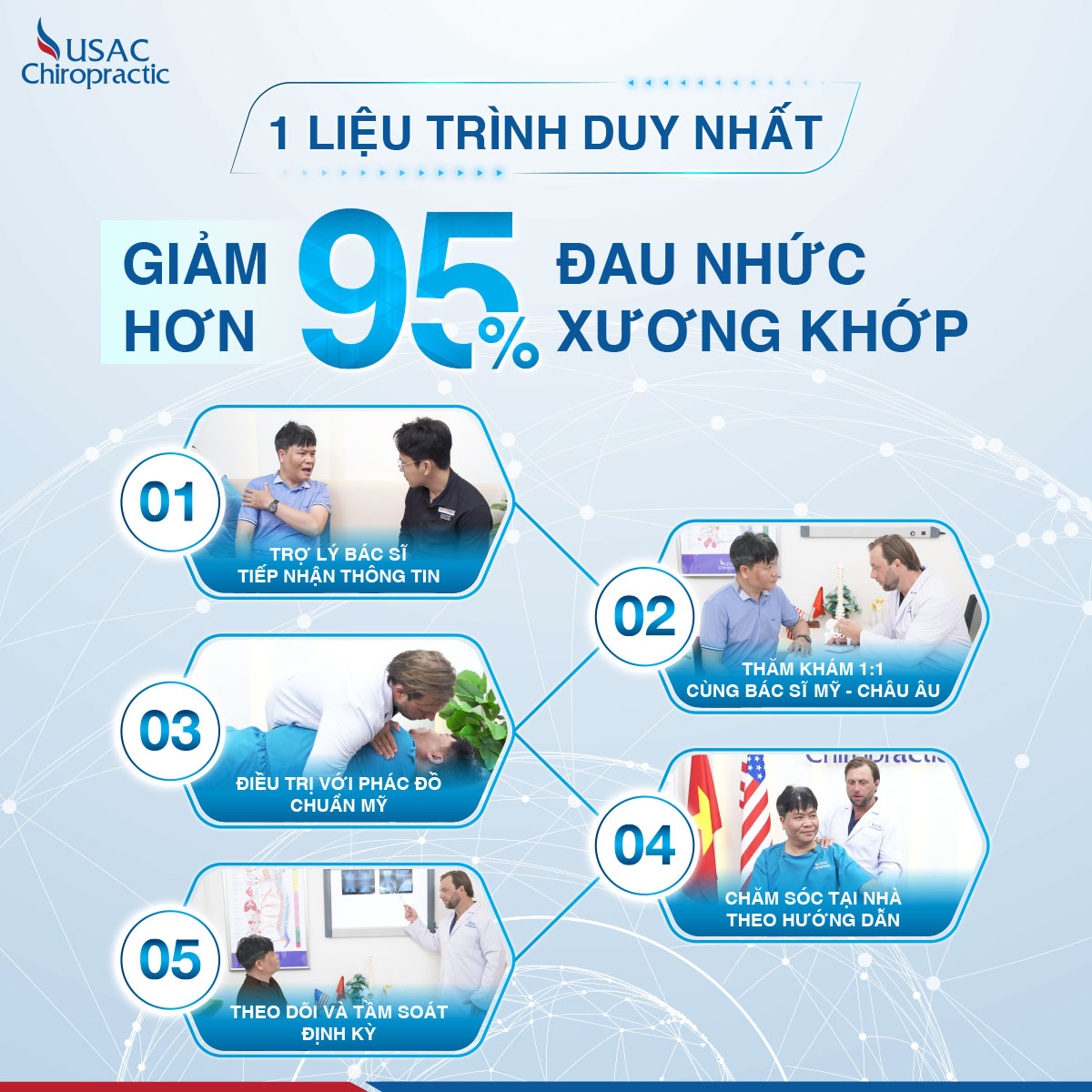 Treatment process at USAC Chiropractic clinic
Throughout the treatment process, patients are closely monitored by doctors who provide appropriate advice and instructions to optimize treatment results. After completing the treatment course, patients continue to receive necessary advice on maintaining and caring for their spine and musculoskeletal system to minimize the risk of recurrence.
Spinal chiropractic treatment according to the American standard protocol
USAC Chiropractic Spinal Treatment Institute is one of the first healthcare units in Vietnam to implement a 4-in-1 protocol in spinal musculoskeletal treatment.
The goals of the 4-step protocol (CHIROPRACTIC – PHYSICAL THERAPY – CNC – THERAPEUTICS) are:
– 100% reduction in medication and surgery
– Reduced treatment time and improved quality
– Reduced side effects and complications after therapy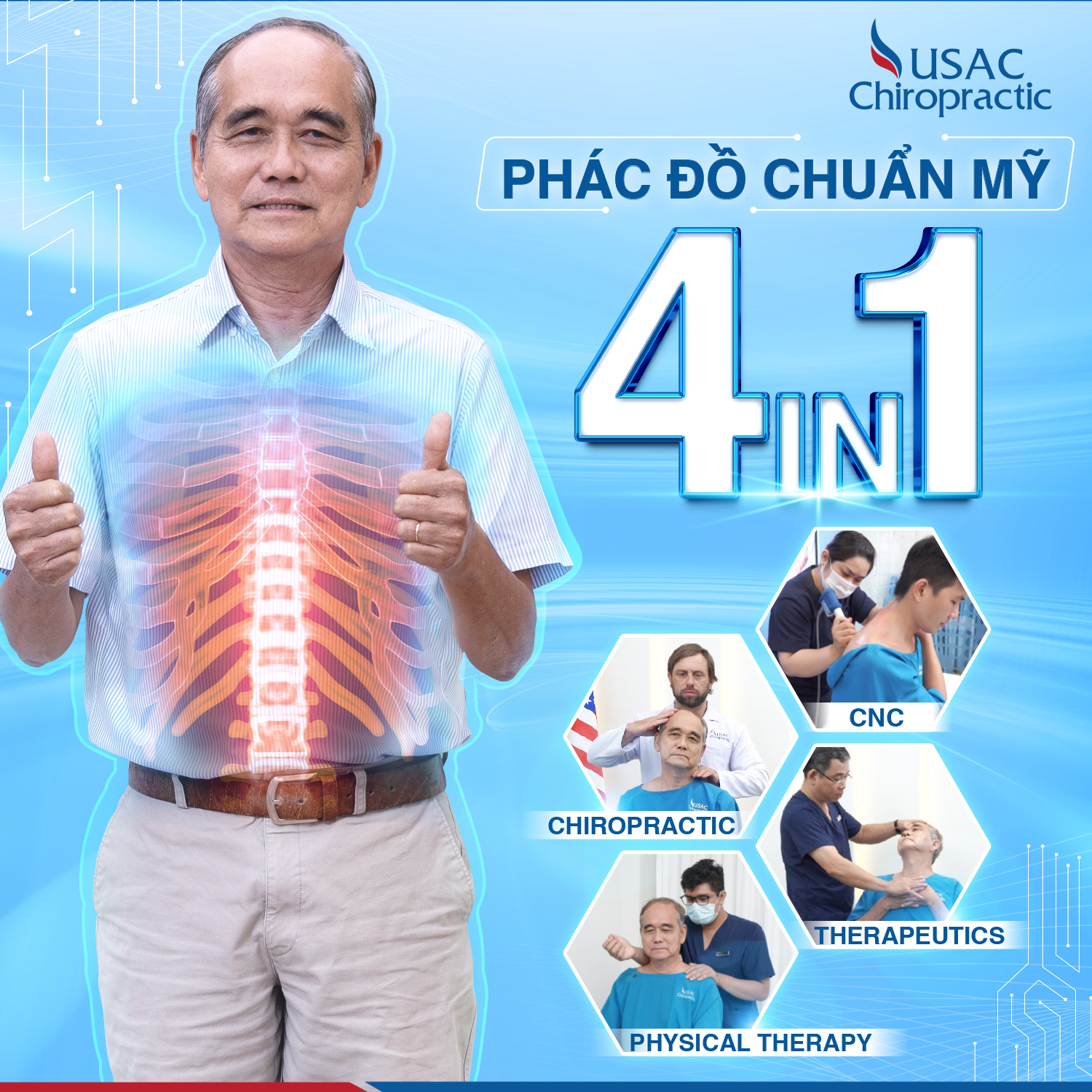 The superior 4-in-1 regimen is the hope for millions of Vietnamese musculoskeletal patients
Advantages of each method:
– Chiropractic adjustment realigns misaligned vertebrae, relieves nerve compression, and stimulates the body's self-healing without medication or invasion.
– Physical Therapy employs manual techniques to soften muscles, relieve muscle tension, promote metabolism, and restore mobility.
– CNC Therapy with Triton DTS stabilizes the spine, Max Cool Pro reduces immediate pain after 20 minutes, and Shockwave therapy prevents further degeneration.
– Therapeutics enhance blood circulation, improve joint flexibility, and maintains maximum treatment results.
About the therapeutic equipment system
All medical equipment used at USAC Chiropractic is specialized and specific to the field of musculoskeletal care, recommended by leading experts in the medical field:
– Triton DTS spinal decompression table expands intervertebral space and reduces pressure on the discs.
– Shockwave therapy accelerates wound healing and tissue regeneration of bones, tendons, and soft tissues.
– Max Cool Pro x6 multi-speed recovery technology for multiple injuries.
– AI Tesla magnetic therapy machine, a breakthrough treatment for sciatica patients.
– Class IV laser therapy reduces inflammation, pain and promotes wound healing.
– Combination of ultrasound and electrotherapy improves circulation, nutrition, and absorption of blood vessels effectively.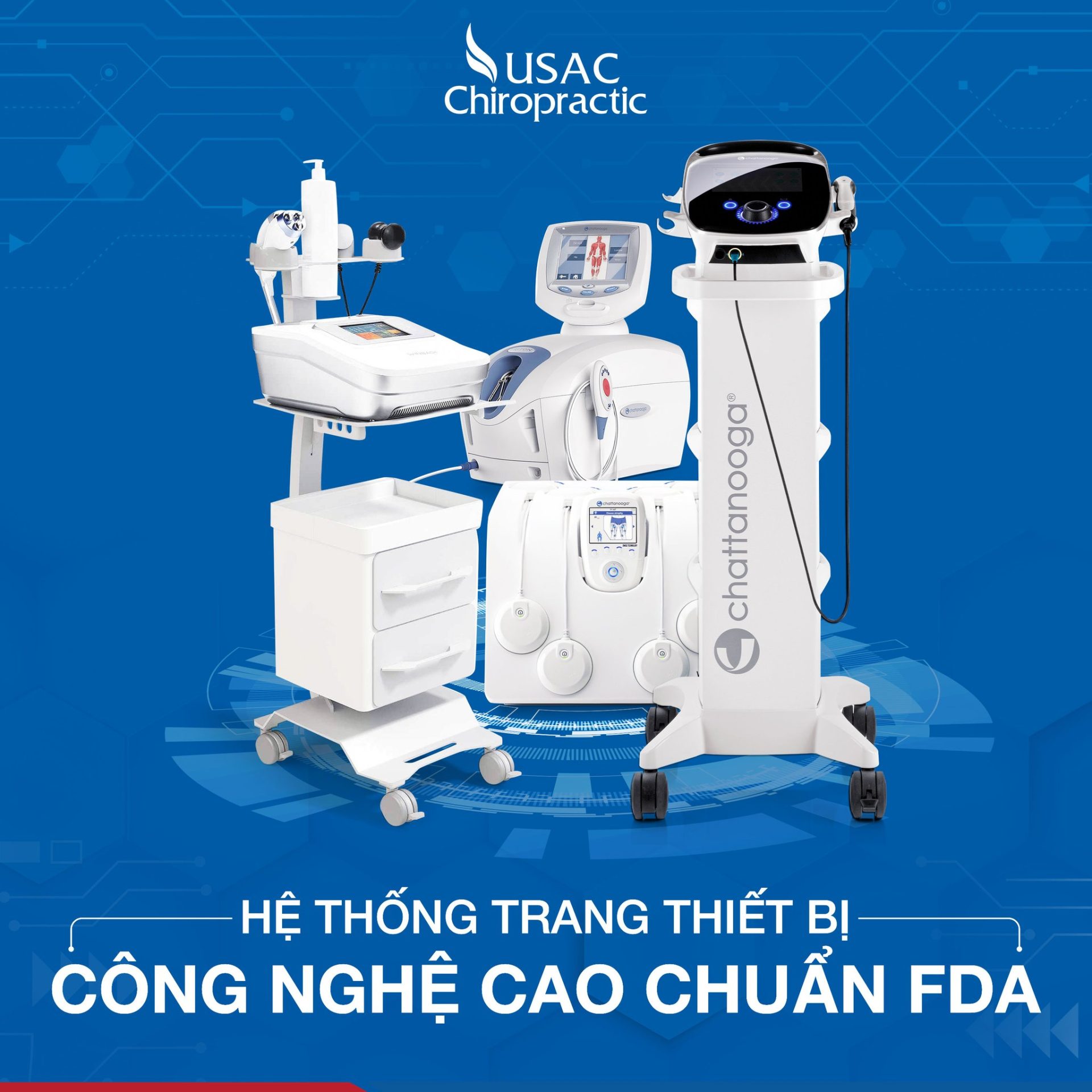 The leading modern treatment support system at USAC Chiropractic
Building trust through professionalism and medical ethics
In recent years, USAC Chiropractic has gained increasing attention, love, and trust from Vietnamese celebrities, patients, and their families. There have been cases where patients like Anh Nguyet, a 62-year-old who couldn't walk normally for over ten years, achieved positive results after treatment without needing pain medication. Xuan Dai, a 57-year-old textile factory manager in Dong Nai, quit his job to pursue therapy at USAC Chiropractic. Additionally, patients from overseas, such as Hoai N, a businessperson in Australia, or Michael, a CEO living and working in Vietnam, who had prior knowledge of Chiropractic, chose USAC Chiropractic for their treatment.
Patient satisfaction and well-being is the work goal of USAC Chiropractic
Furthermore, Vietnamese celebrities who suffer from musculoskeletal disorders and face complex conditions due to their profession, such as actors Huu Chau, Song Luan, Ngo Kien Huy, or actress Than Thuy Ha, have also sought treatment at USAC Chiropractic with the belief that they will soon recover.
All the love and trust received by USAC Chiropractic is transformed into a great motivation to deliver the best treatment results for patients. Above all, it helps them maintain stable health, improve their quality of life, and, most importantly, become a place where Vietnamese musculoskeletal patients can have a complete and happy life with their families and achieve their desires and aspirations.
—————
Viện điều trị cơ xương khớp cột sống chuẩn Mỹ USAC Chiropractic
– Số 1 Trần Hưng Đạo, Quận 1, TP. HCM
– Số 305 Nguyễn Văn Trỗi, Q.Tân Bình, TP. HCM
– Sân Golf Rạch Chiếc, Xa lộ Hà Nội, Quận 2, TP. HCM
– VPĐD: 34959 Eastin Drive Union City, California, USA
Hotline: 1900 5858 00
Website: usac.vn