USAC – LICENSED MEDICAL CLINIC SYSTEM BY THE DEPARTMENT OF HEALTH
USAC Chiropractic, a leading American standard spinal joint, and musculoskeletal treatment institute, pioneers in applying the advanced 4-in-1 protocol (CHIROPRACTIC – PHYSICAL THERAPY – CNC THERAPY – THERAPEUTIC EXERCISES) successfully treating over 50,000 patients with conditions such as herniated discs, spinal degeneration, sciatica, spinal spurs, and more, after a single treatment course.
USAC Chiropractic is a trusted destination for addressing the root causes of musculoskeletal disorders. The two clinics under the USAC Chiropractic Treatment Institute have been granted operating licenses for medical examination and treatment by the Department of Health in Ho Chi Minh City, with permanent value.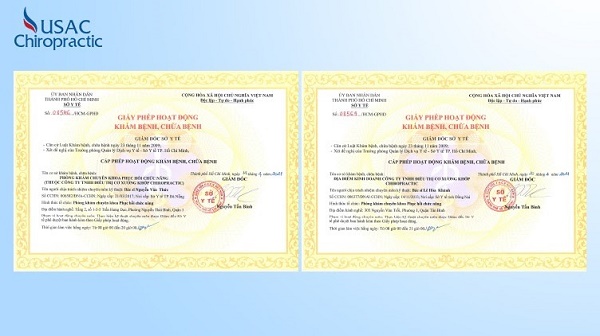 Operating licenses of 2 facilities under USAC Chiropractic in Ho Chi Minh City. Ho Chi Minh
To obtain the operating license, the USAC Chiropractic Clinic System had to undergo an evaluation based on the following criteria:
100% TEAM OF US AND EUROPEAN DOCTORS WITH OVER 25 YEARS OF EXPERIENCE
At USAC Chiropractic, American and European doctors are directly certified by regulatory authorities, providing one-on-one examinations and treatments for patients.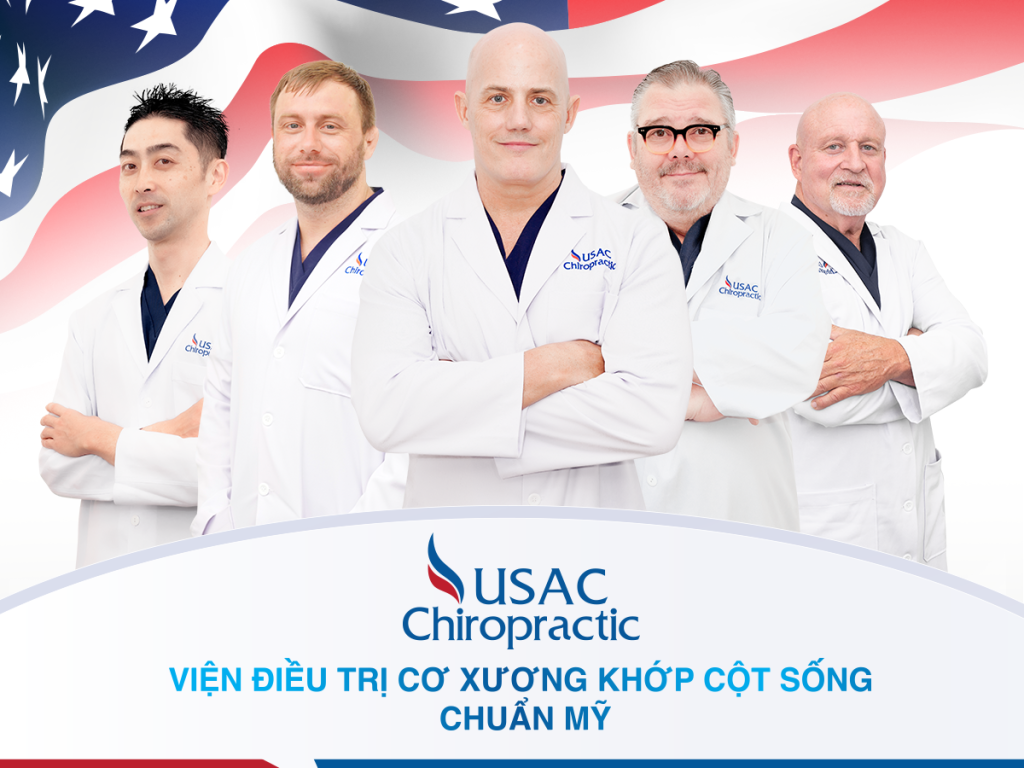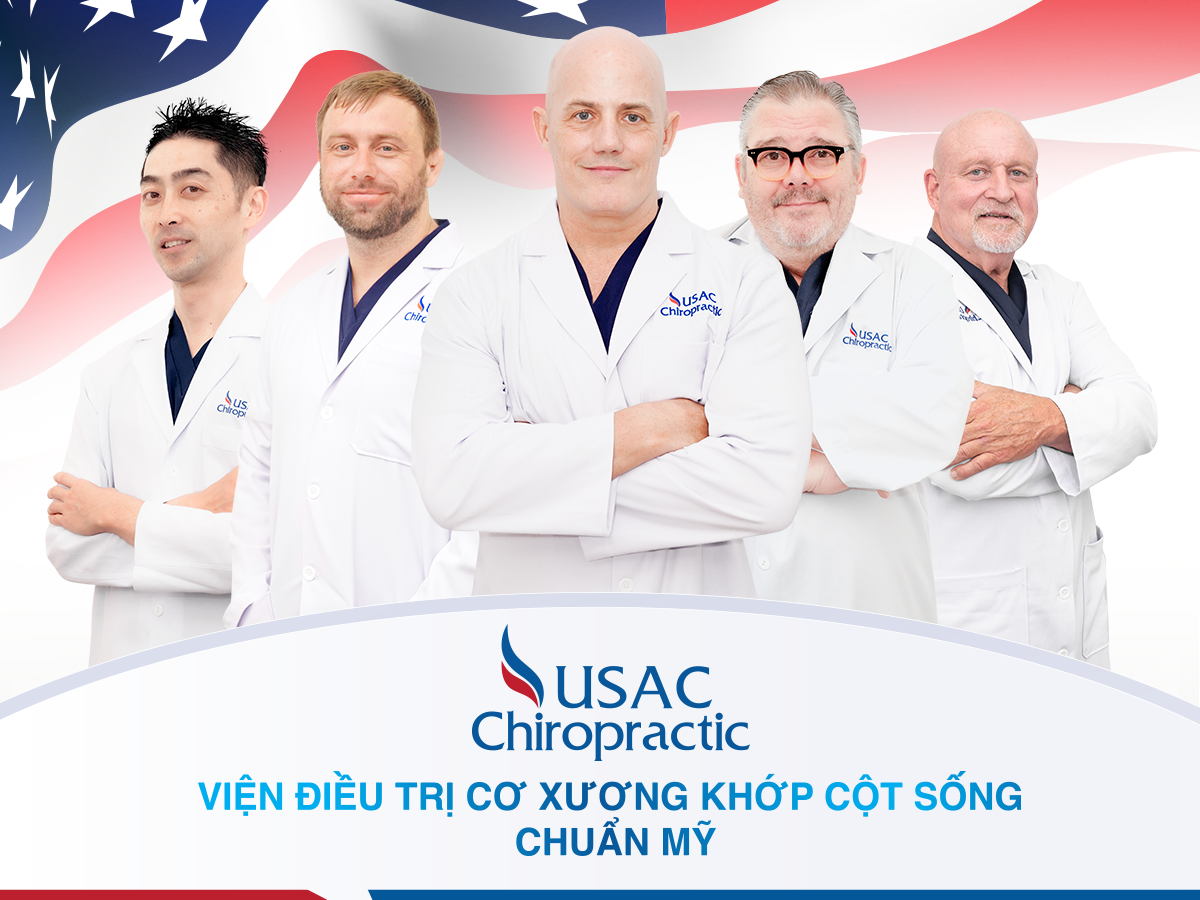 Council of American-European Physicians over 25 years of experience at USAC Chiropractic
The American-European Board of Doctors has over 25 years of experience at USAC Chiropractic. These doctors have received at least six years of training in Chiropractic at renowned universities worldwide and have over ten years of practical experience in hospitals and clinics. Therefore, the team of doctors at USAC can ensure patients' peace of mind regarding the positive outcomes of their treatments.
100% MODERN PHYSICAL FACILITIES & STATE-OF-THE-ART MEDICAL EQUIPMENT
USAC Chiropractic possesses an advanced medical technology system that meets the FDA standards of the United States, optimizing treatment effectiveness and minimizing treatment time. It includes cutting-edge pain reduction technology, Max Cool Pro, Shockwave therapy, fourth-generation Laser technology, the DTS spinal decompression system, and more.
The High-Tech Medical System is one of the points of pride of USAC Chiropractic.

High-tech Medical System is one of the pride of USAC Chiropractic
50,000 SATISFIED PATIENTS AFTER TREATMENT
With an experienced team of US and European doctors and state-of-the-art medical equipment, USAC Chiropractic has successfully treated over 50,000 patients with musculoskeletal disorders. Among them are famous Vietnamese artists such as Meritorious artist Huu Chau, Kim Xuan, Phi Phung, singer & MC Ngo Kien Huy, and singer Will.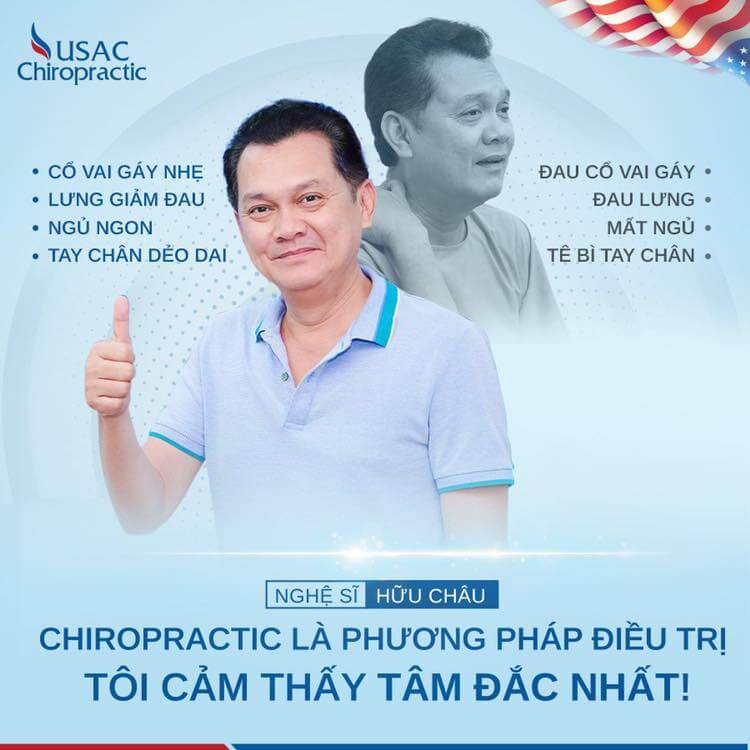 Meritorious Artist Huu Chau: "Chiropractic is my favorite treatment method!"
With the mission of "rediscovering footsteps" for musculoskeletal patients, USAC Chiropractic continually strives to meet the most stringent requirements for medical safety, treatment effectiveness, and optimized treatment courses to suit the conditions and health of Vietnamese people.
---
USAC Chiropractic Musculoskeletal Treatment Hospital and Clinic Company Limited.
– 1-3-5 Tran Hung Dao Street, Nguyen Thai Binh Ward, District 1, Ho Chi Minh City.
– 305 Nguyen Van Troi Street, Ward 1, Tan Binh District, Ho Chi Minh City.
– Representative office in the US: 34959 Eastin Drive Union City, CA 94587
Chiropractic
•
Chiropractic hà nội
•
chiropractic tphcm
•
usac chiropractic