TALENTED PHYSICIANS COUNCIL OF USAC CHIROPRACTIC
As one of the leading American-standard musculoskeletal treatment centers in Vietnam, USAC is proud not only to possess a system of clinics stretching from the North to the South with the most advanced equipment but also to have 100% of its physicians from foreign countries with outstanding medical systems such as the United States, Europe, and Japan. This factor helps USAC Chiropractic become trusted and thriving in the hearts of hundreds of thousands of patients.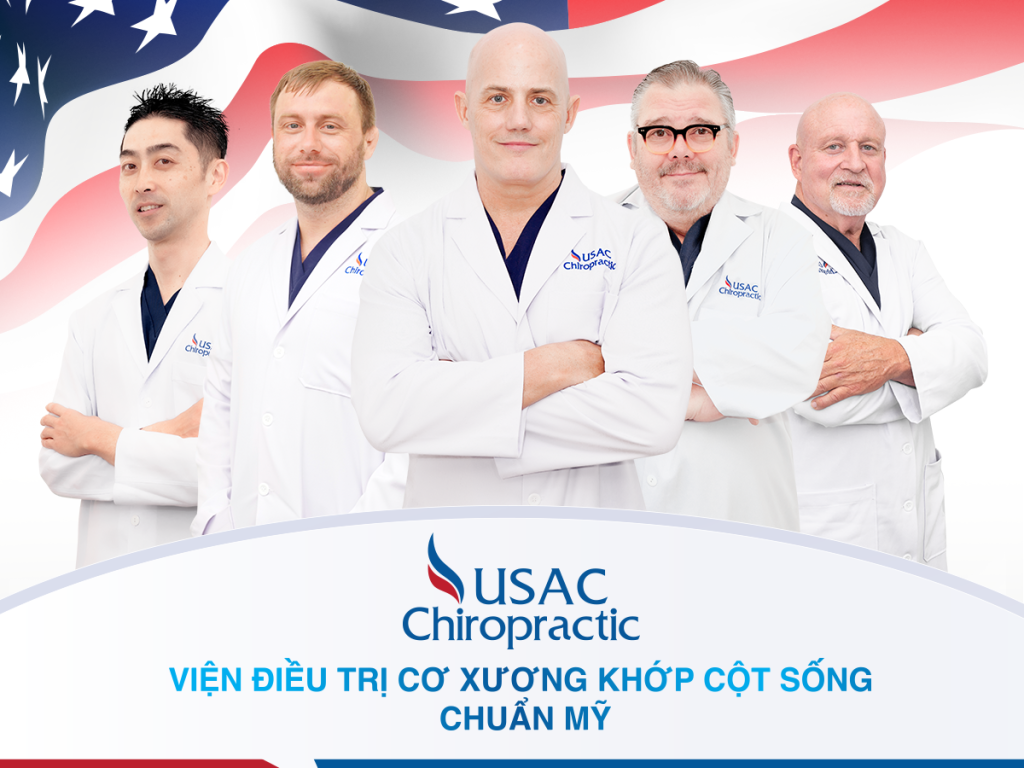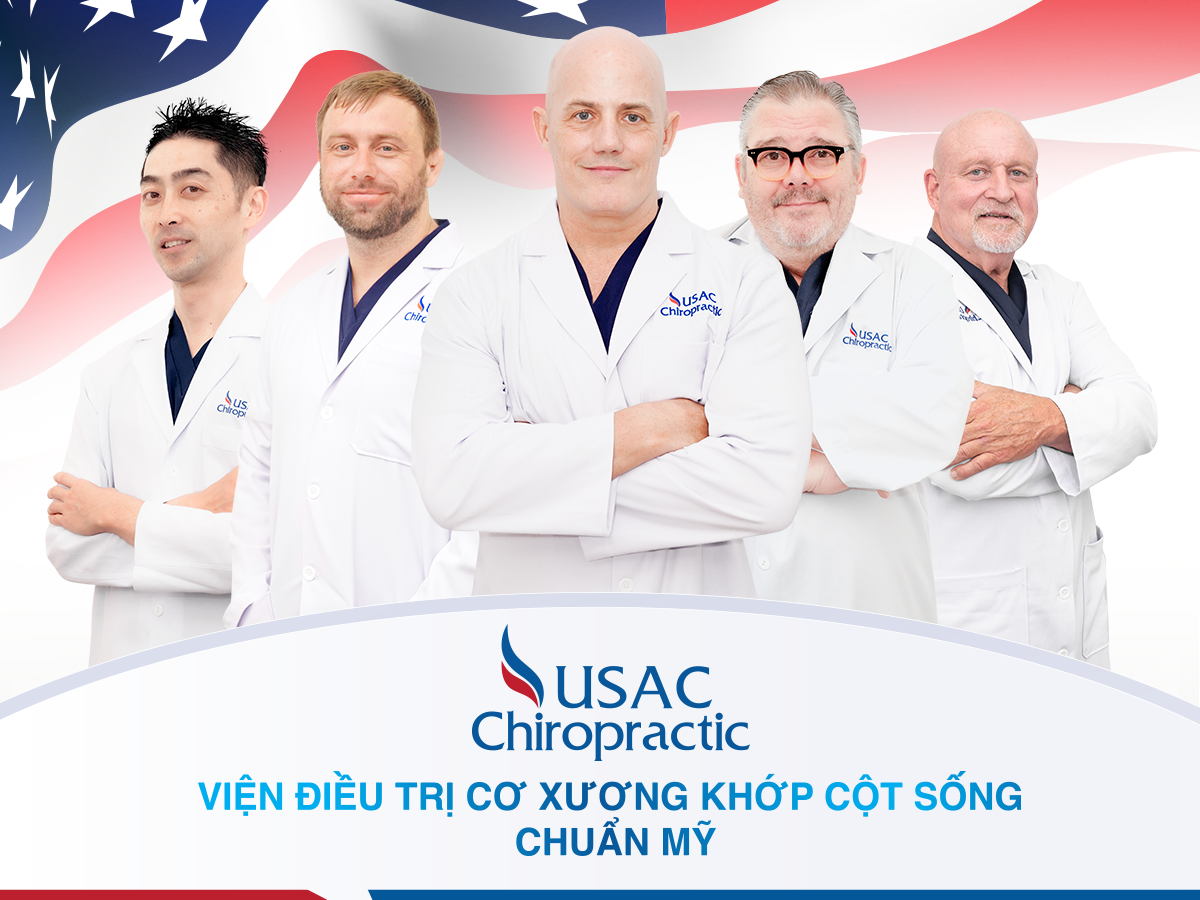 Team of foreign doctors at USAC Chiropractic
Mandatory requirements to become a Chiropractic physician
In the United States and Europe, the standard needs to become a Chiropractic physician must meet the following criteria:
– Complete four years of general university education, two years of specialized study in sciences, and four years of specialized research in Chiropractic.
– Chiropractic physicians must undergo a training program with a similar number of study hours as medical physicians, approximately 4,200 hours of classroom, laboratory, and clinical entity, about 555 hours dedicated to internships, and a minimum of 90 hours of concentrated study.
– At least 900 hours of work in spine correction centers/facilities.
– Must pass practical exams at the National Board and all exams organized according to state regulations.
– To be granted professional licenses and internationally recognized certificates, physicians must comply with the relevant professional regulations.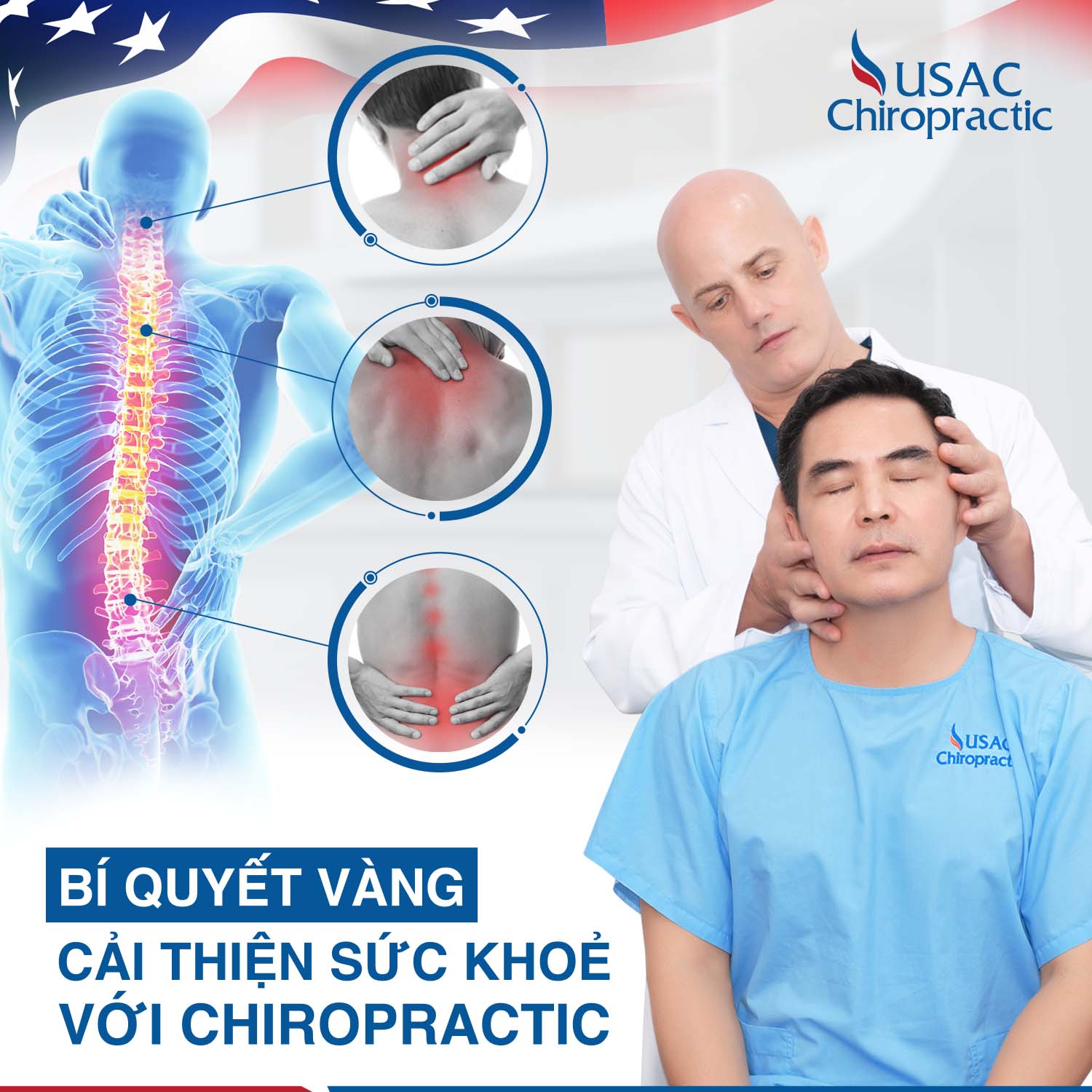 Chiropractic physicians need to undergo a systematic and in-depth study.
The training programs include primary medicine, anatomy, physiology, and biochemistry training. Specialized training is also conducted in differential diagnosis, X-rays, and treatment techniques. It means that a spine correction physician diagnoses and treats patients. According to the Federation of Chiropractic Licensing Boards, spine correction physicians are trained to provide healthcare.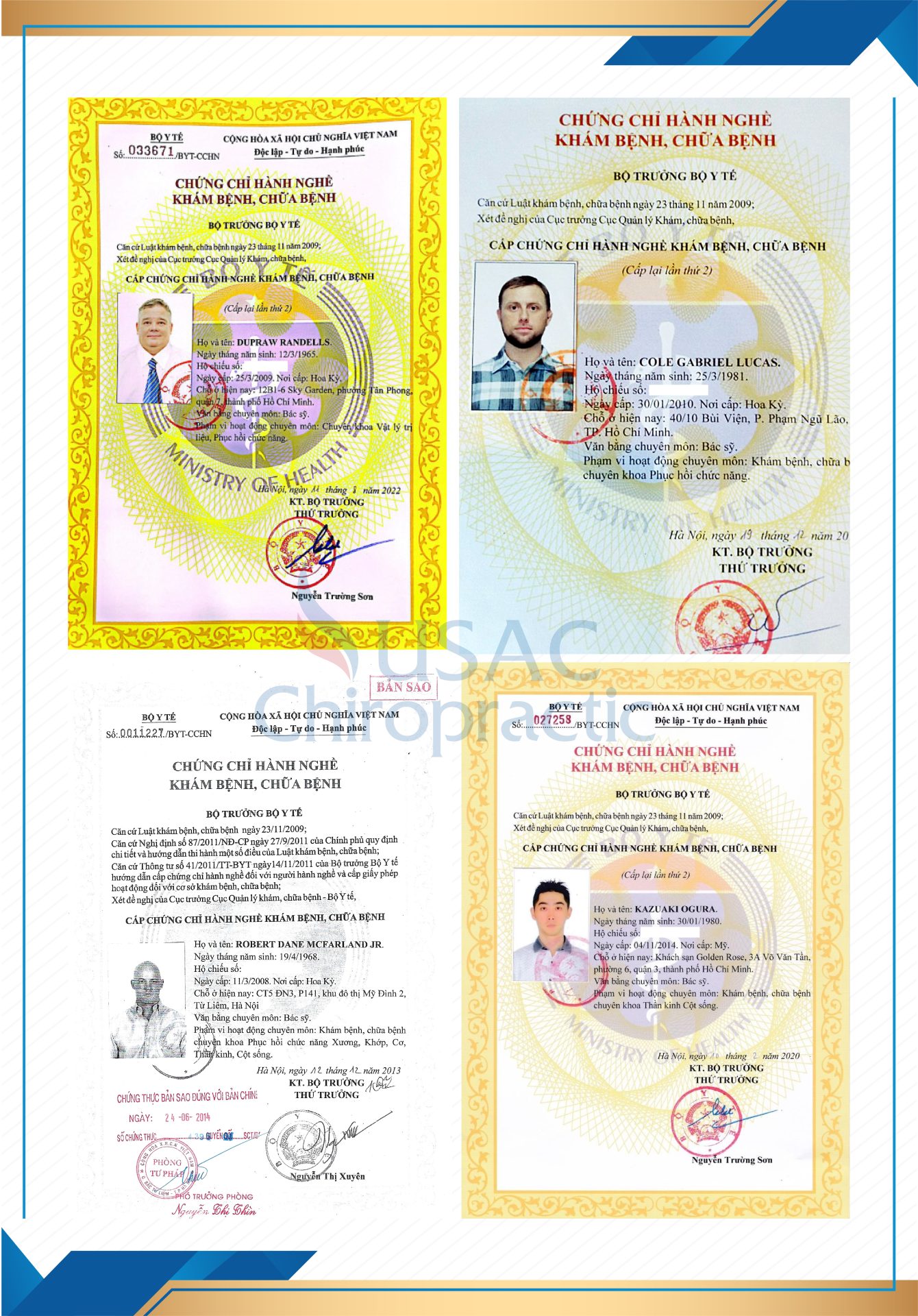 The Board of Chiropractic Physicians at USAC holds degrees and licenses that are recognized worldwide
Why is Chiropractic only safe when performed by American-European physicians?
Chiropractic adjustment is currently recognized as one of the safest and most effective methods with the criteria of no medication, no injections, and no surgery to treat issues related to the musculoskeletal system, bones, joints, and spinal nerves.
It has been proven that Chiropractic is highly safe for the elderly, children, and pregnant women. However, USAC emphasizes that this method is secure only when performed by FOREIGN PHYSICIANS trained in the Chiropractic field, meeting the strict educational standards set by the Federation of Chiropractic Licensing Boards.
Currently, no legitimate university in Vietnam offers specialized training in Chiropractic. Therefore, Vietnamese self-proclaimed "Chiropractic physicians" have no basis, insufficient technical knowledge, and experience to diagnose and treat patients. One incorrect technique can lead to complications such as STROKE, ACUTE PARALYSIS, or even life-threatening situations.
USAC only allows FOREIGN PHYSICIANS WITH INTERNATIONAL PRACTICE LICENSES to perform treatments.
1. Dr. Elias Delphinus – Leading Chiropractic physician with over 35 years of experience
As a sports science and health lecturer, a Doctor of Chiropractic specializing in spinal nerve therapy from the University of Houston, with over 35 years of experience in the field of musculoskeletal spine treatment, and having trained at the Australian Institute of Sports as a Master Trainer, Dr. Elias has gained the love of many patients for his solid professional expertise and dedication in his work.
With a firm grasp of knowledge in spinal nerve therapy, empathy for the patient's pain, and always prioritizing "all for the patients," this gentle and approachable physician brings reassurance and trust. He is one of the most essential factors in helping hundreds of thousands of patients overcome illnesses.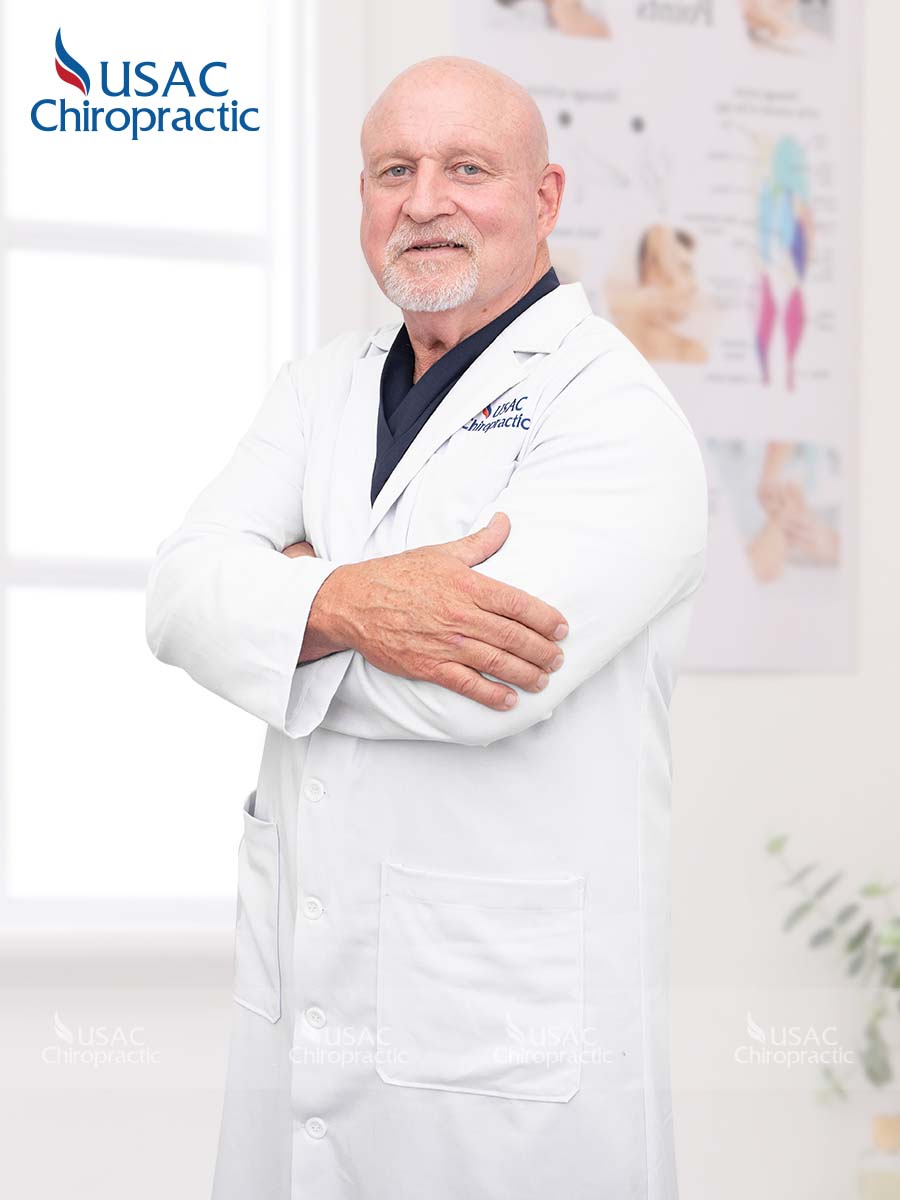 Dr. Elias Delphinus – Chiropractic doctor with over 35 years of experience
2. Dr. Dane Robert – Joint and bone expert with 20 years of experience
Having graduated from Texas Chiropractic College, one of the leading schools in the United States for spinal nerve education, Dr. Dane Robert still felt uneasy seeing his loved ones suffering from chronic joint and bone pain without comprehensive treatment. He has experienced similar issues, understanding how exhausting those pains can be.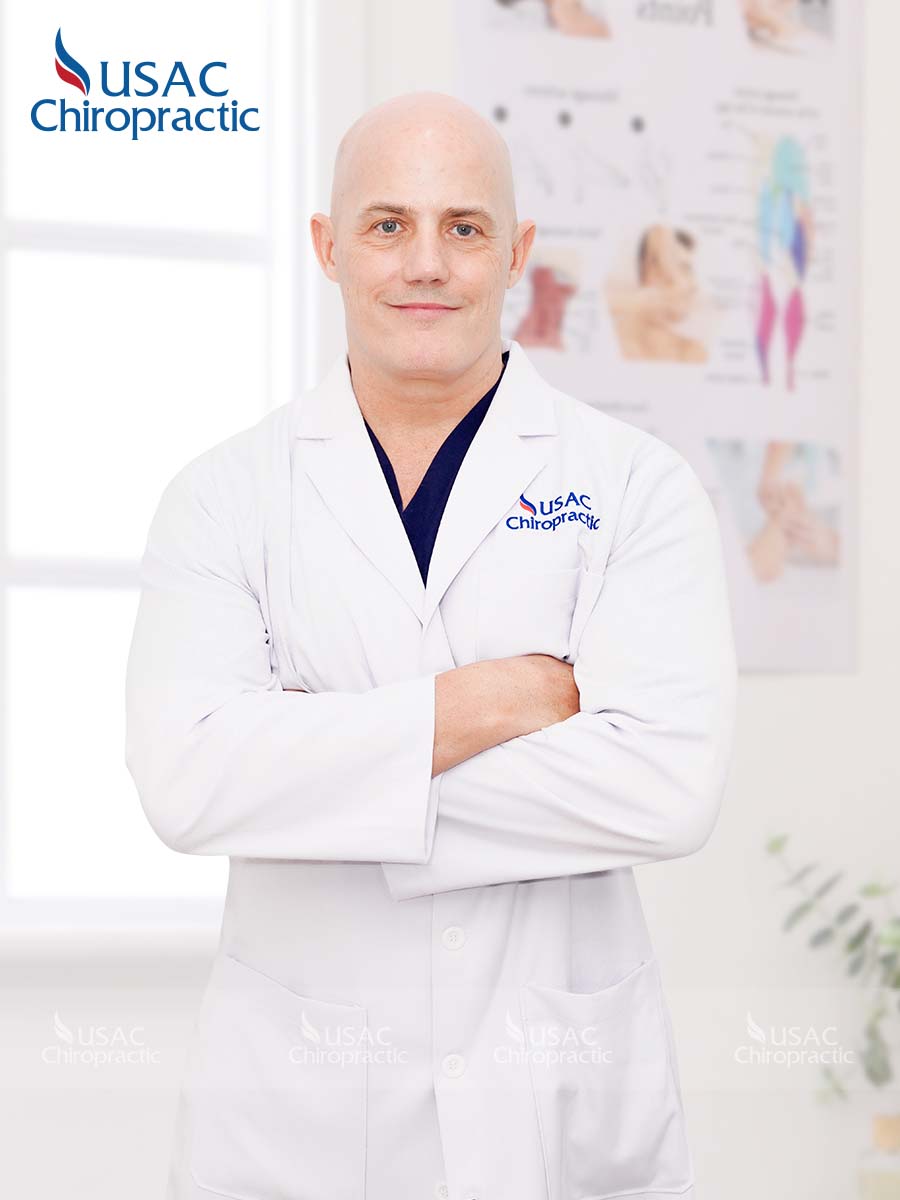 Dr.Dane Robert with more than 20 years of experience in the field of orthopedics
Since he set foot in this S-shaped land, he has felt a sense of home, with an affection for the scenery, the cuisine, and the patients he has the chance to interact with.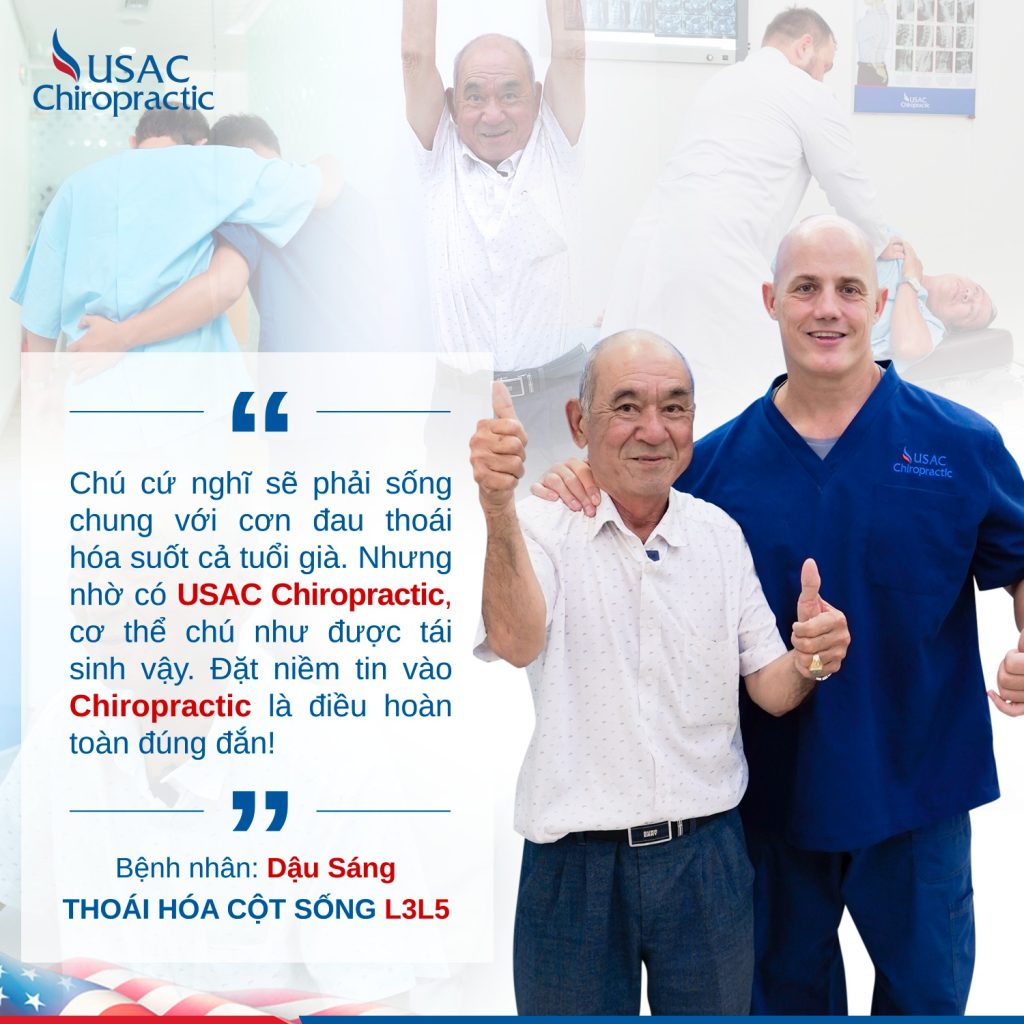 Dr.Dane brings a ray of hope to thousands of musculoskeletal patients in Vietnam
Due to the genuine warmth and hospitality of the Vietnamese people, he has determined that this is where he belongs and where he can develop the Chiropractic method further.
3. Dr. Randell – Talented and warm-hearted physician at USAC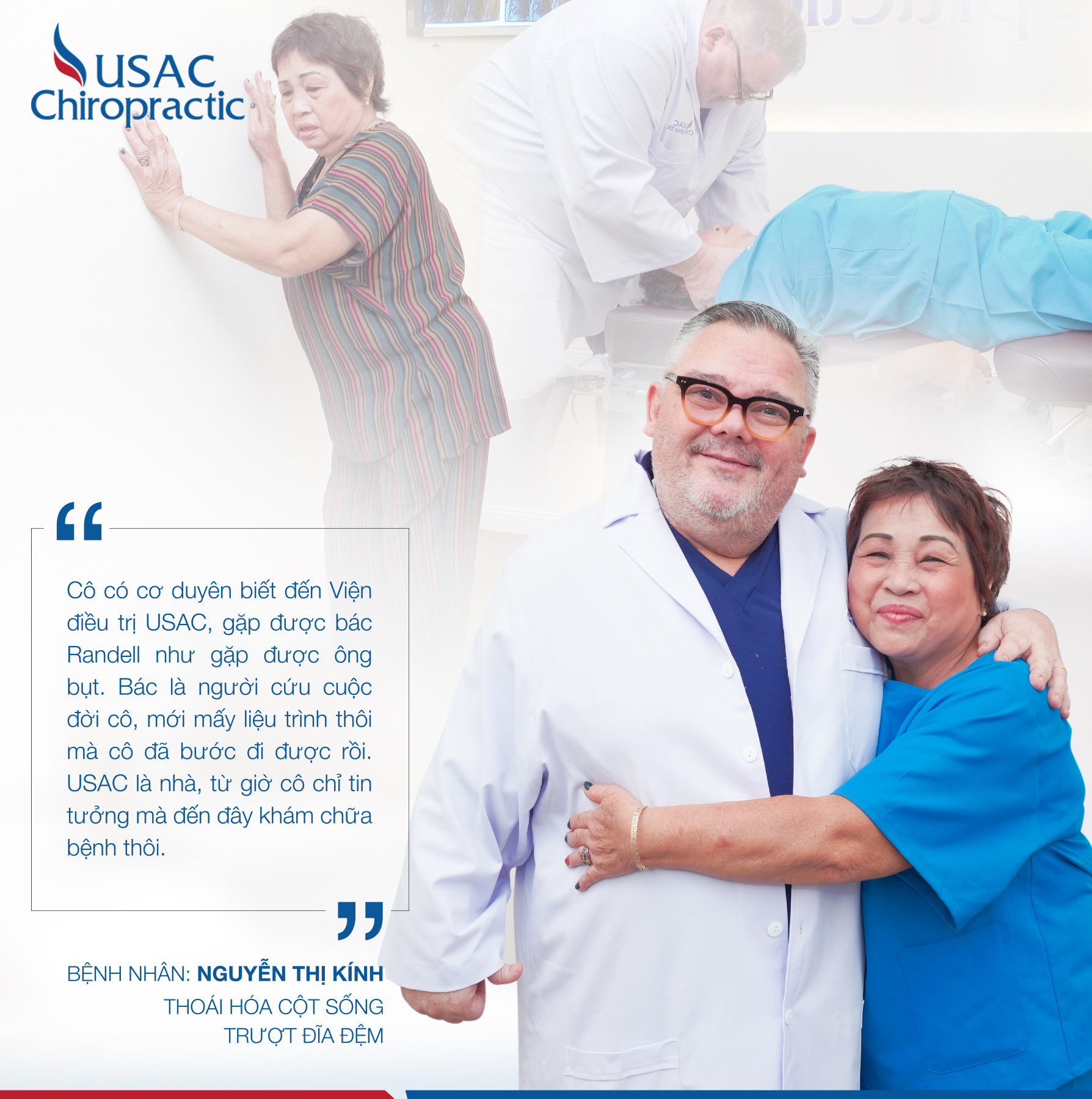 Patients put their trust in Dr.Randel because of the positive results after treatment
Dr. Randell graduated with a specialization in spinal nerve therapy from The National College of Chiropractic (Lombard, Illinois). He has had years of experience working in top medical countries such as the United States and the United Kingdom. He has achieved numerous successes in treating patients with spinal conditions such as herniated discs, spinal degeneration, joint degeneration, and spinal spurs.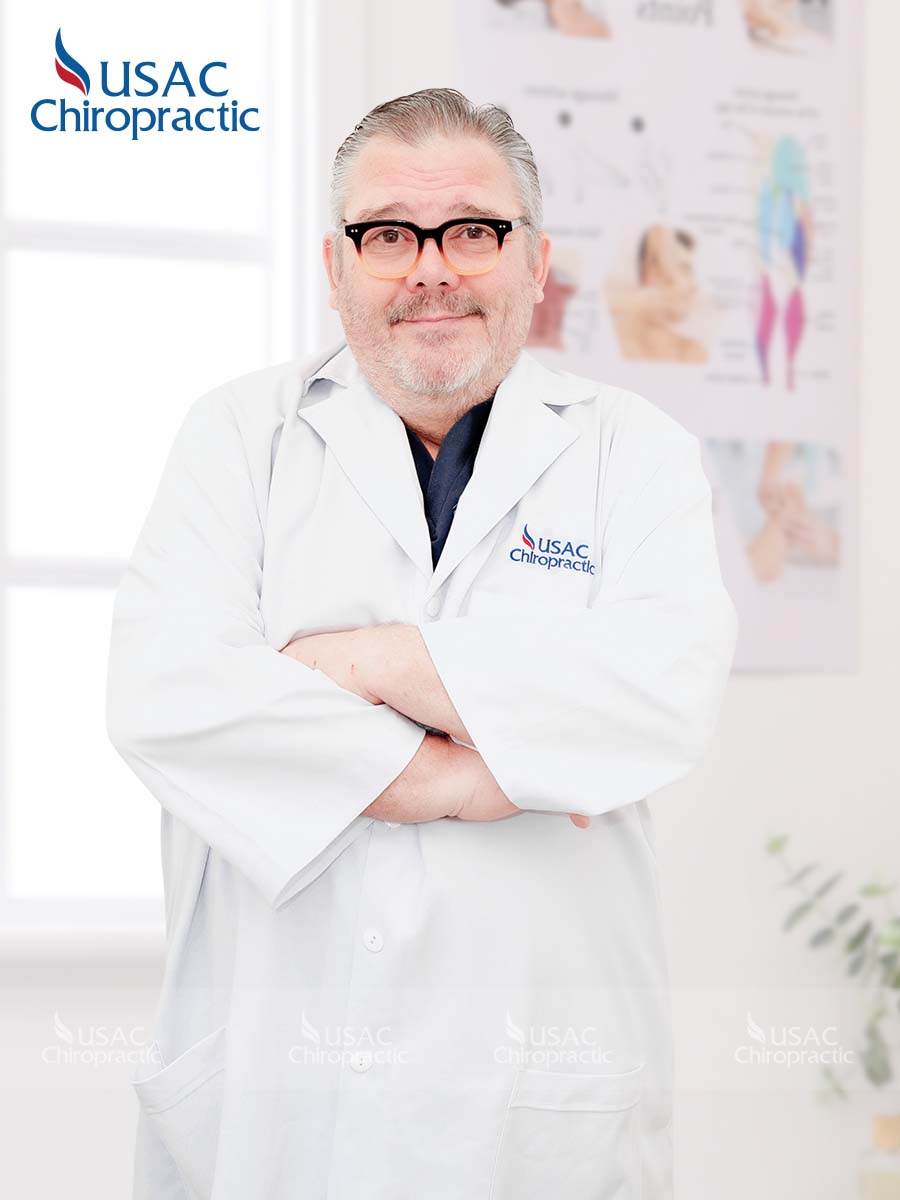 Dr.Randell S.Dupraw – the doctor with a warm smile
With over 20 years of experience in this field, Dr. Randell S. Dupraw always makes patients feel close and warm with his bright smile and professionalism. Dr. Randell also stated, "I learned to read emotions and understand patients' experiences to adjust my behavior and actions according to each person's emotions. That is the beneficial 'pain relief' for patients."
4. Dr.Gabriel Lucas
Having completed a Chiropractic spinal nerve therapy training program with a passion for learning, Dr. Gabriel Lucas (Dr. Gabe) has been treating musculoskeletal patients for over 20 years in the United States, Europe and possesses internationally recognized degrees.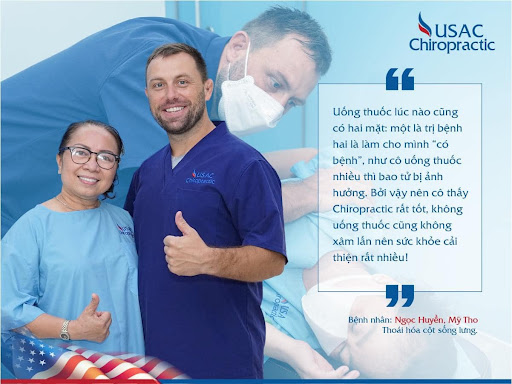 Patient's joy is the greatest happiness for Dr.Gabe
Through years of dedication, continuous learning, and absorbing new knowledge in Chiropractic and the musculoskeletal field, Dr. Gabe has successfully treated hundreds of thousands of patients each year, providing them with healthy bodies and helping them recover beyond expectations to enjoy meaningful lives.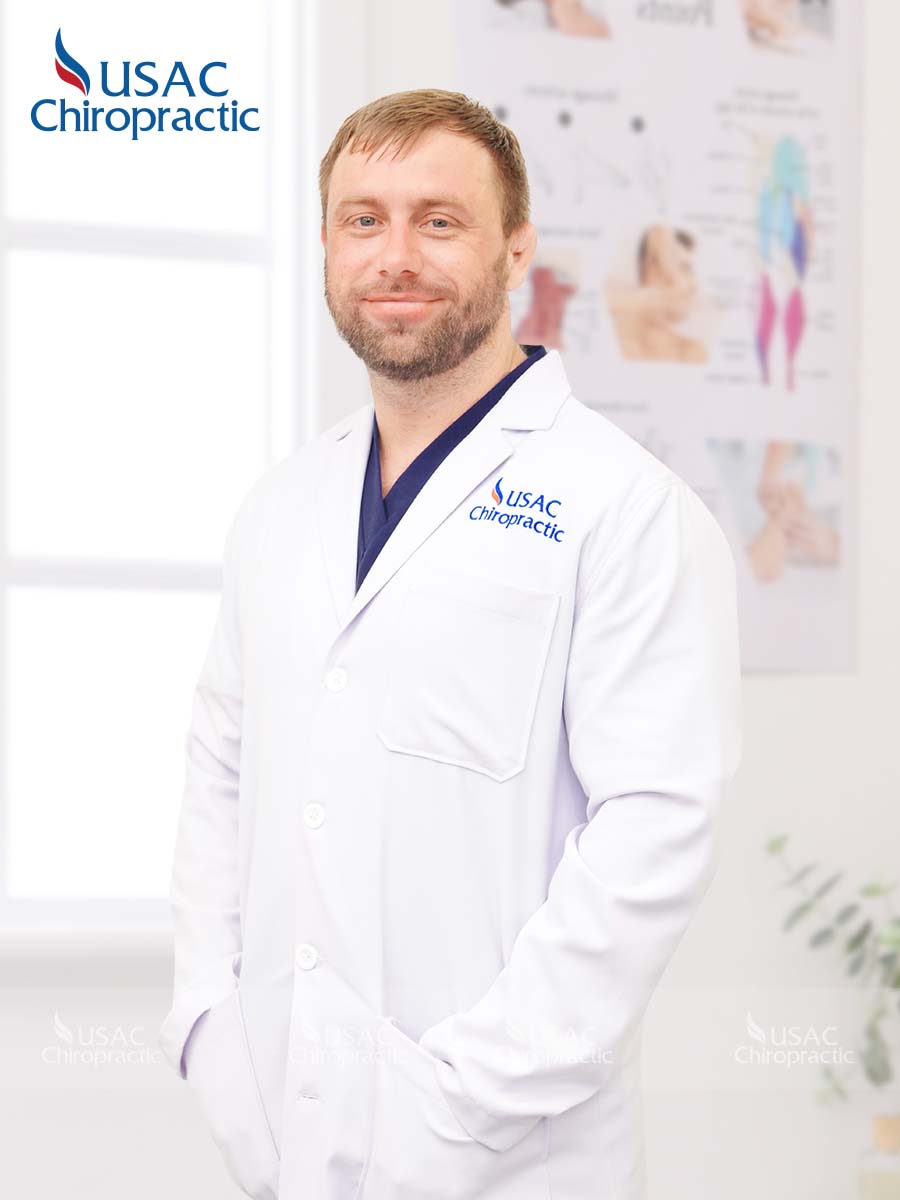 Dr.Gabriel Lucas is always learning to improve himself every day
5. Dr.Kazuaki Ogura
As a Doctor of Chiropractic and having been trained at the Southern California University of Health Sciences, with over 20 years of experience in musculoskeletal therapy in the United States, Singapore, and Vietnam, Dr. Kazuaki Ogura is one of the most talented and dedicated physicians that USAC Chiropractic proudly collaborates with.
Embodying the motto "FOR PATIENT HEALTH" in all examination and treatment activities at USAC, Dr. Kazuaki provides superior treatment results and receives unconditional love and respect from patients due to the found reassurance and sharing after each visit.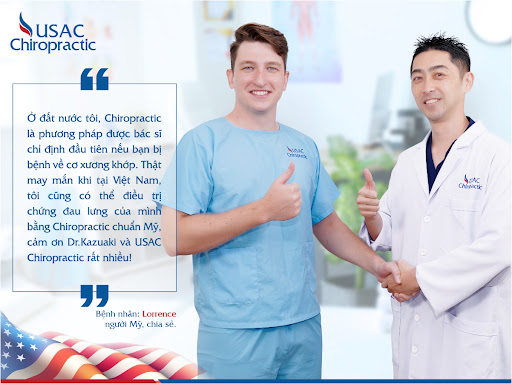 Dr.Kazuaki Ogura: "All for patient health"
The devoted dedication and sense of responsibility in Dr. Kazuaki Ogura reflect the remarkable traditional values of an American-Japanese person, admired by the world. He is tirelessly working daily and every hour for consciousness and responsibility towards society and the community – something that he always keeps in mind.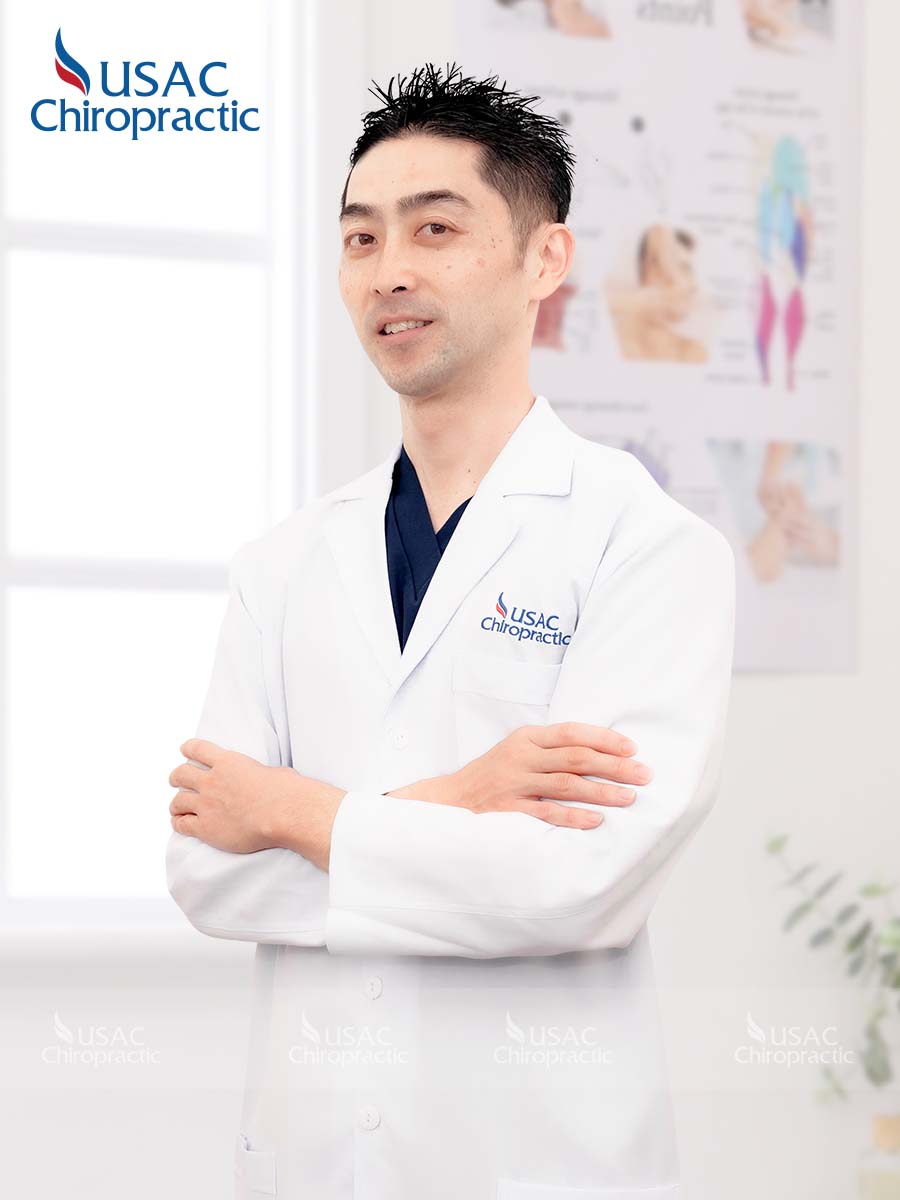 Dr.Kazuaki Ogura is sympathetic by his professionalism during treatment
6. Master Therapy. Bart Levie – Specialist in treatment and rehabilitation with over ten years of experience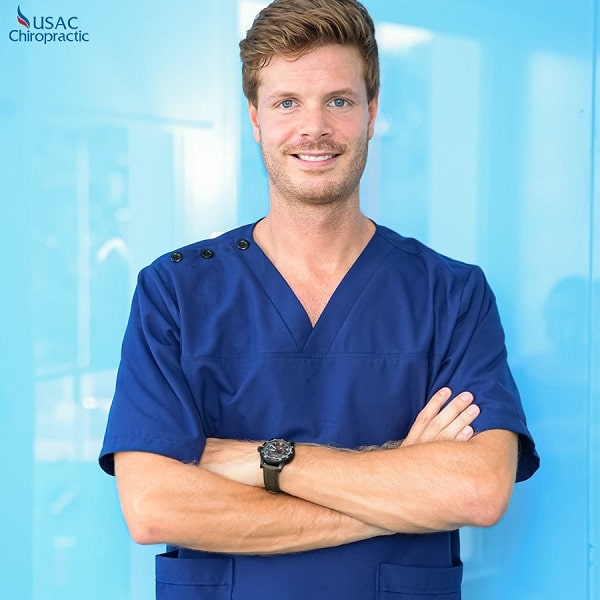 Master Therapy. Bart Levie – "golden hands" in the field of American standard physiotherapy
– Graduated with a specialization in physical therapy from THIM VAN DER LAAN International University in the Netherlands.
– Achieved specialization certificates in physical education and performance learning, application in physical therapy research and practice.
– Previously worked in physical therapy and functional rehabilitation at Mens Sana (Suriname Republic).
– Formerly a physical therapy and functional rehabilitation specialist at MTC Fysiotherapie (Netherlands).
– Collaborated and regularly enhanced musculoskeletal physical therapy and functional rehabilitation expertise at Fysio Holland (Netherlands).
– Regularly participates in domestic and international courses and workshops to enhance professional knowledge and keep up with the latest trends in therapy from the United States.
– Since 2020: Specialized physician in physical therapy at the USAC Chiropractic Musculoskeletal and spine treatment Institute, Ho Chi Minh City.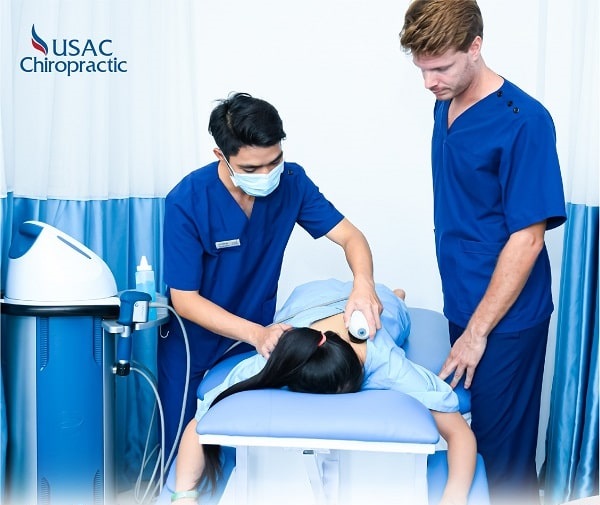 Master Therapy. Bart Levie and his therapist are treating patients at USAC
"Youth with extraordinary talent" comes to mind when discussing Master Therapy. Bart Levie. Alongside a solid professional knowledge foundation and years of experience, Dr. Bart knows how to apply physical therapy methods accurately, helping thousands of patients regain their motor function.
With his young age, Vietnam is like a second home to him, and "patients are like friends and family." According to him, being a good physician means learning how to treat patients professionally and constantly improving the experience, and researching psychological aspects to soothe the pain with empathy and understanding for patients.
—————
USAC Chiropractic Musculoskeletal Treatment Hospital and Clinic Company Limited.
– 1-3-5 Tran Hung Dao Street, Nguyen Thai Binh Ward, District 1, Ho Chi Minh City.
– 305 Nguyen Van Troi Street, Ward 1, Tan Binh District, Ho Chi Minh City.
– Representative office in the US: 34959 Eastin Drive Union City, CA 94587
bác sỹ usac
•
bác sỹ xương khớp
•
Chiropractic
•
Chiropractic hà nội
•
chiropractic tphcm
•
usac chiropractic tphcm