What is Chiropractic?
Chiropractic therapy, also known as the Chiropractic technique, is considered the primary recommended method for effectively treating musculoskeletal, bone, joint, and spinal disorders before resorting to internal medicine (medication) or surgery. So, what is Chiropractic ? and what are its advantages? Let's explore in today's article with USAC Chiropractic!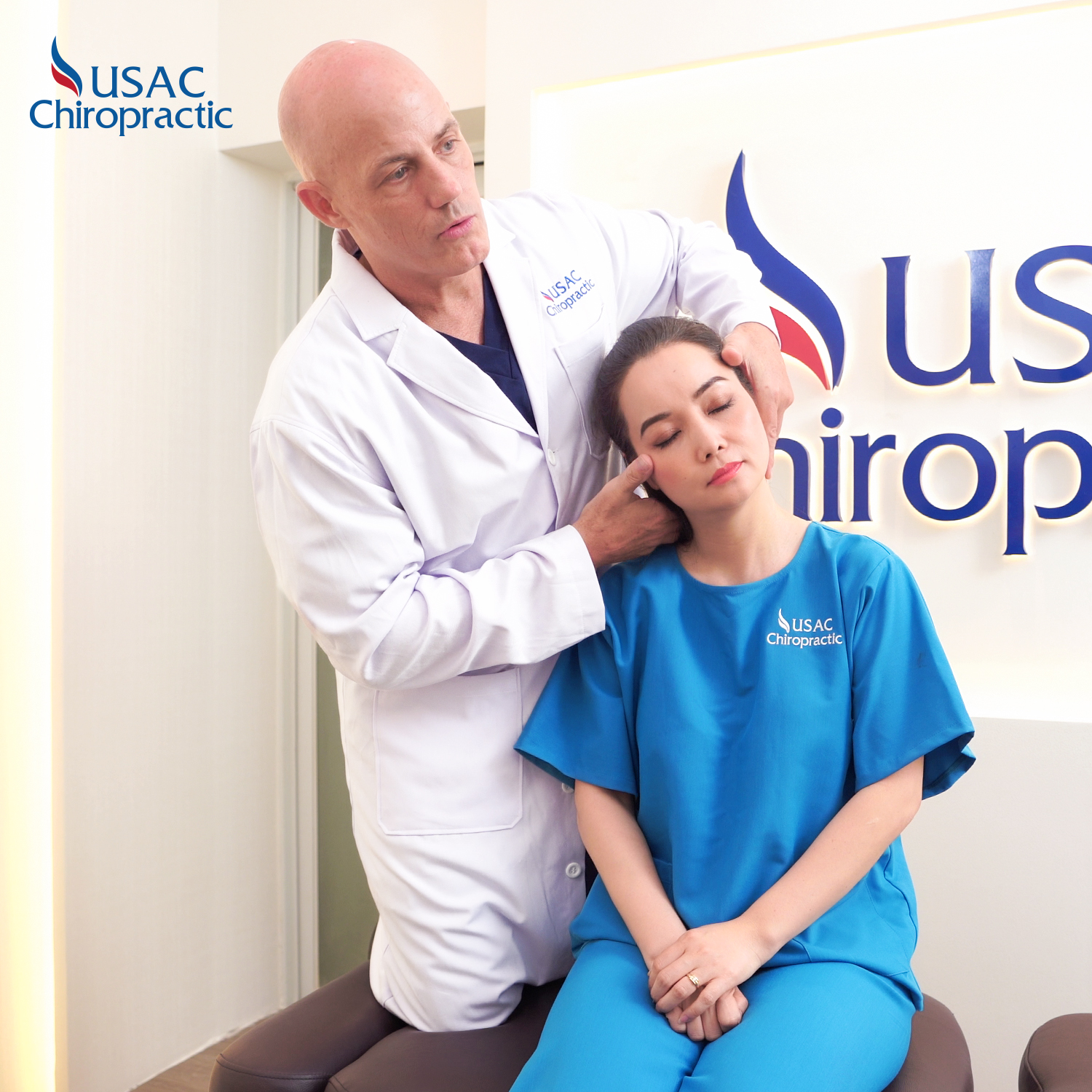 Chiropractic is the first method indicated for the treatment of musculoskeletal diseases of the spine
What is Chiropractic?
Chiropractic was founded in 1895 by Daniel David Palmer, an American-born Canadian chiropractor. He had a gatekeeper at his office, Harvey Lillard, who had been deaf for 17 years. One day, Harvey told Dr. Palmer that he heard a popping sound in his neck when he suddenly bent over, and a swelling appeared. Dr. Palmer suggested helping Harvey by performing a neck adjustment: he placed his hands on the swollen area, performed some adjustment movements, and a miraculous thing happened when Harvey's hearing was miraculously restored. Since then, the field of spinal manipulation has become widely known.
It can be said that Chiropractic is not a current method but a well-established discipline with a remarkable history. Although it began with manual adjustments (Chiropractic – a term derived from the Greek words cheir (hand) and praxis (action) and literally means "done by hand."), it has now expanded to include various supportive tools.
Principles of Chiropractic Treatment.
Throughout the development of Chiropractic, chiropractors have established a close connection between the spine, the nervous system, and the brain. Misalignments of the spine directly affect the nerves passing through it, disrupting the transmission of signals through the spinal nerves, leading to various disorders ranging from pain to symptoms appearing in other organs.
Chiropractic treats based on the intimate connection between the spine, nervous system, and brain.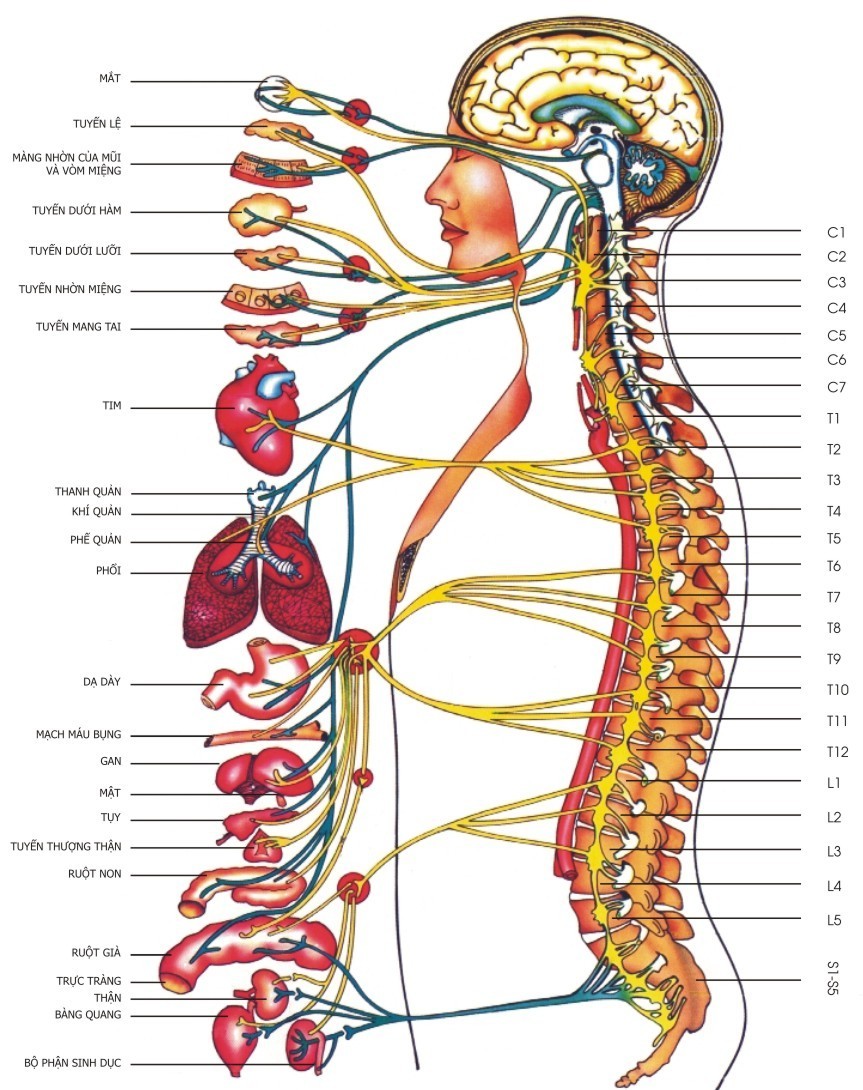 Chiropractic treatment is based on the intimate relationship between the spine – nervous system – brain
Based on this principle, Chiropractors adjust the spine to its correct position, preserving the spinal nerves passing through the vertebrae.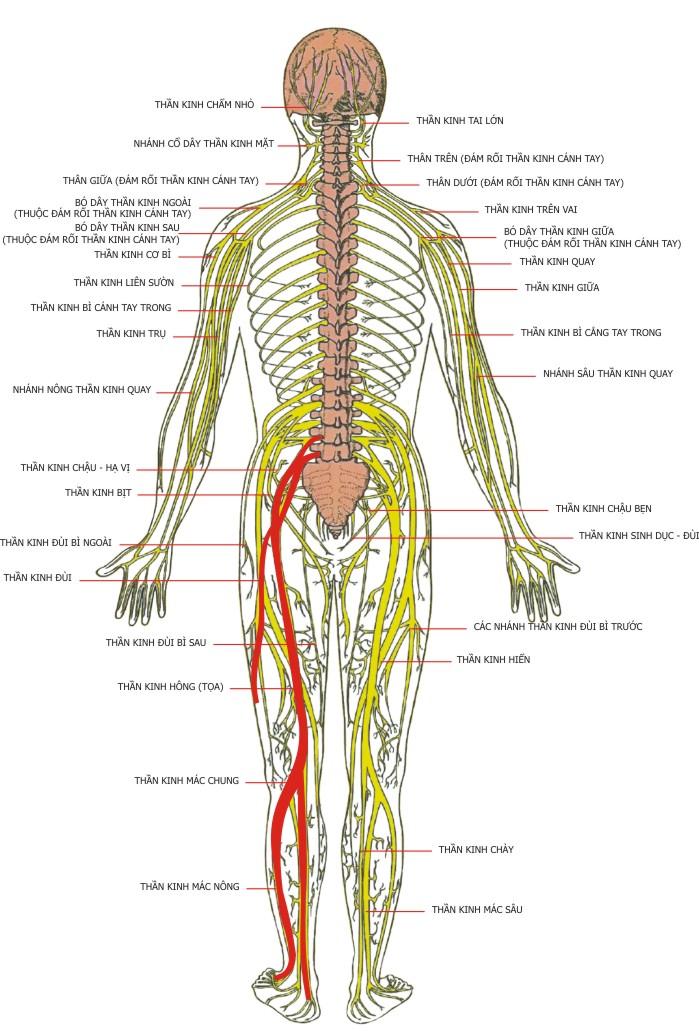 Hệ thần kinh cột sống là một trong những hệ cơ quan quan trọng nhất của cơ thể
By improving and optimizing the functions of the spinal nervous system, the human body returns to its original state of balance and can even self-regulate diseases in other organs without needing medication.
Disorders Treated with Chiropractic Adjustment
According to Dr. Gabriel Lucas (a Chiropractor with 20 years of experience), Chiropractic is recognized as the most effective and safe treatment method for most musculoskeletal, bone, joint, and spinal disorders, including herniated discs, spinal degeneration, spinal curvature, sciatica, and various conditions related to the hands, feet, and knee joints.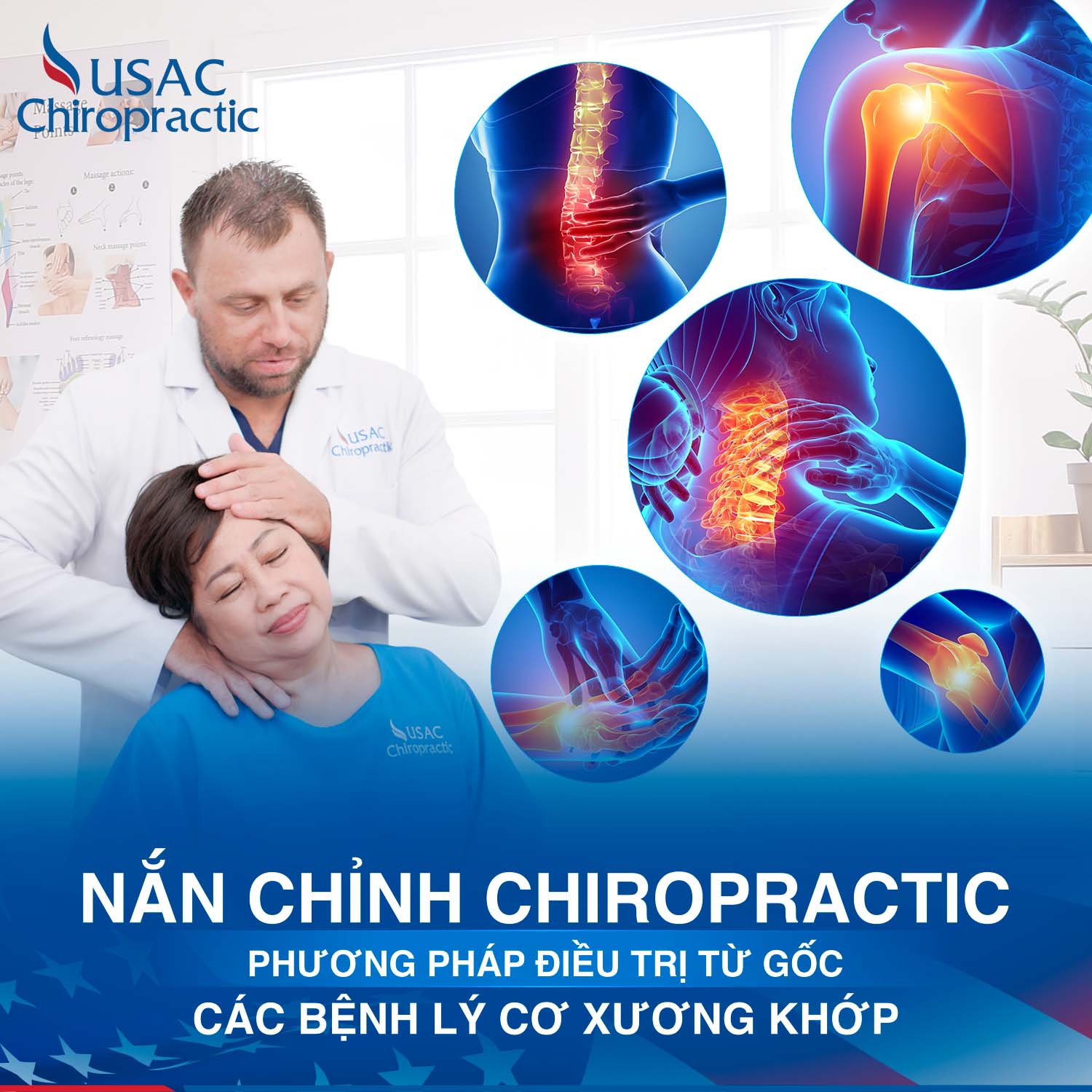 Chiropractic được khuyến nghị cho hầu hết các bệnh lý về cơ xương khớp cột sống
Suitable Candidates for Chiropractic Chiropractic is ideal for all individuals:
Office workers
Athletes
Pregnant women
Elderly individuals
Children
Adolescents and middle-aged individuals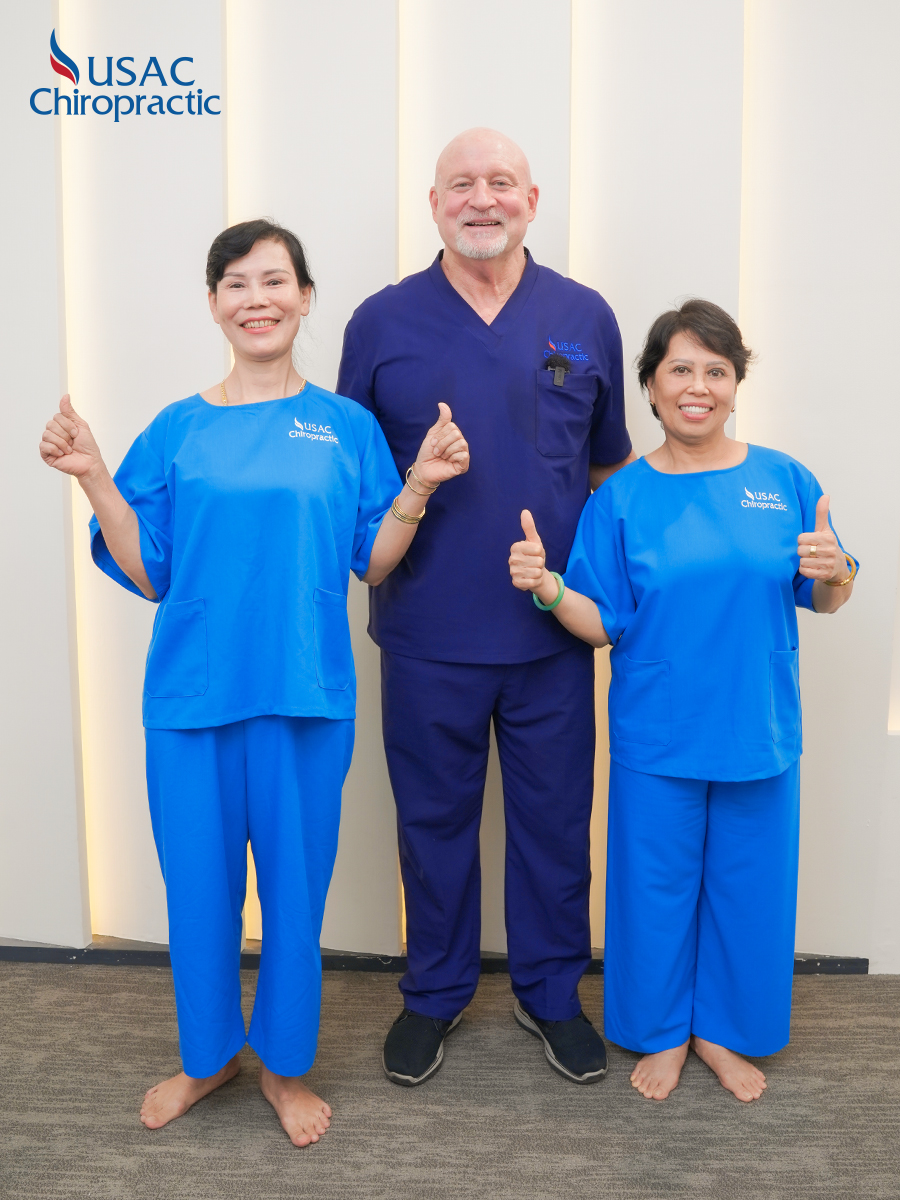 Chiropractic is suitable for all subjects
Outstanding Advantages of Chiropractic:
Treats the root cause of musculoskeletal and spinal disorders
Provides immediate relief from pain after the first adjustment
Does not require medication or invasive procedures (injections, surgery)
Optimizes the body's development
Minimizes the risk of diseases
Enhances the immune system
It improves blood circulation to the brain
Enhances mobility
Prevents abnormal joint activities
Patient happiness after successful treatment at USAC
Is Chiropractic Adjustment Safe?
Dr. Gabriel Lucas (a spinal therapy specialist at USAC Chiropractic) states: "With the principle of not using medication or surgery during the treatment process, Chiropractic helps patients recover effectively while minimizing the risk of complications."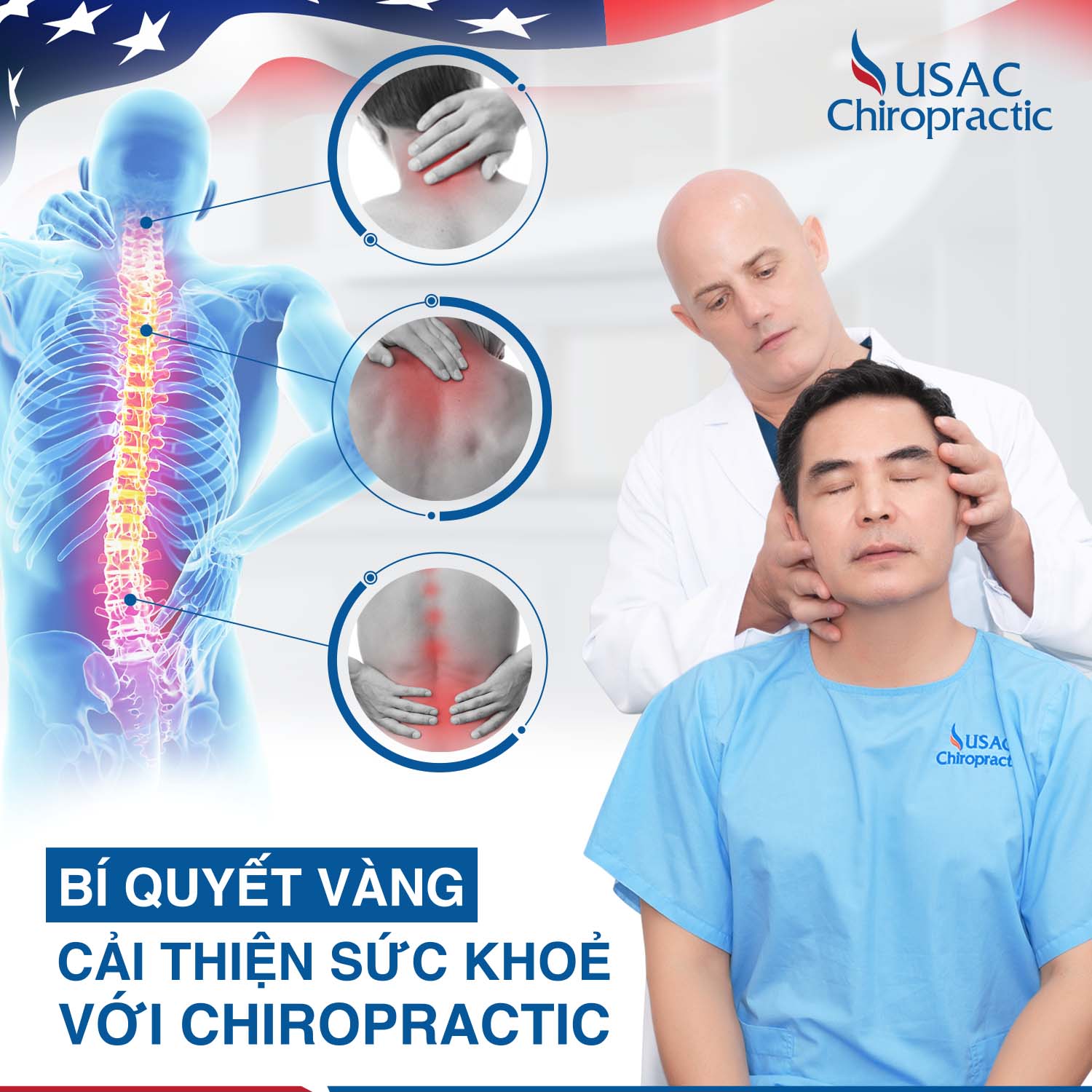 Chiropractic is safe and treats diseases from the root
Does Chiropractic Adjustment Cause Pain?
Before starting the treatment process, the doctors at USAC Chiropractic will review the patient's medical history and identify the underlying causes to determine the appropriate treatment approach for each individual's condition. Depending on the cause and state, the doctors at USAC Chiropractic will combine chiropractic therapy with physical rehabilitation, deep tissue therapy, or other techniques. With the invaluable support of modern medical equipment, the treatment process can be accelerated, helping patients quickly regain mobility and the joy of life.
USAC Chiropractic is the leading institution in Vietnam in applying chiropractic adjustment. With a team of highly skilled doctors from the USA and European countries and state-of-the-art medical equipment, USAC Chiropractic proudly offers patients a safe, effective, and non-complication-inducing method to treat musculoskeletal and joint disorders.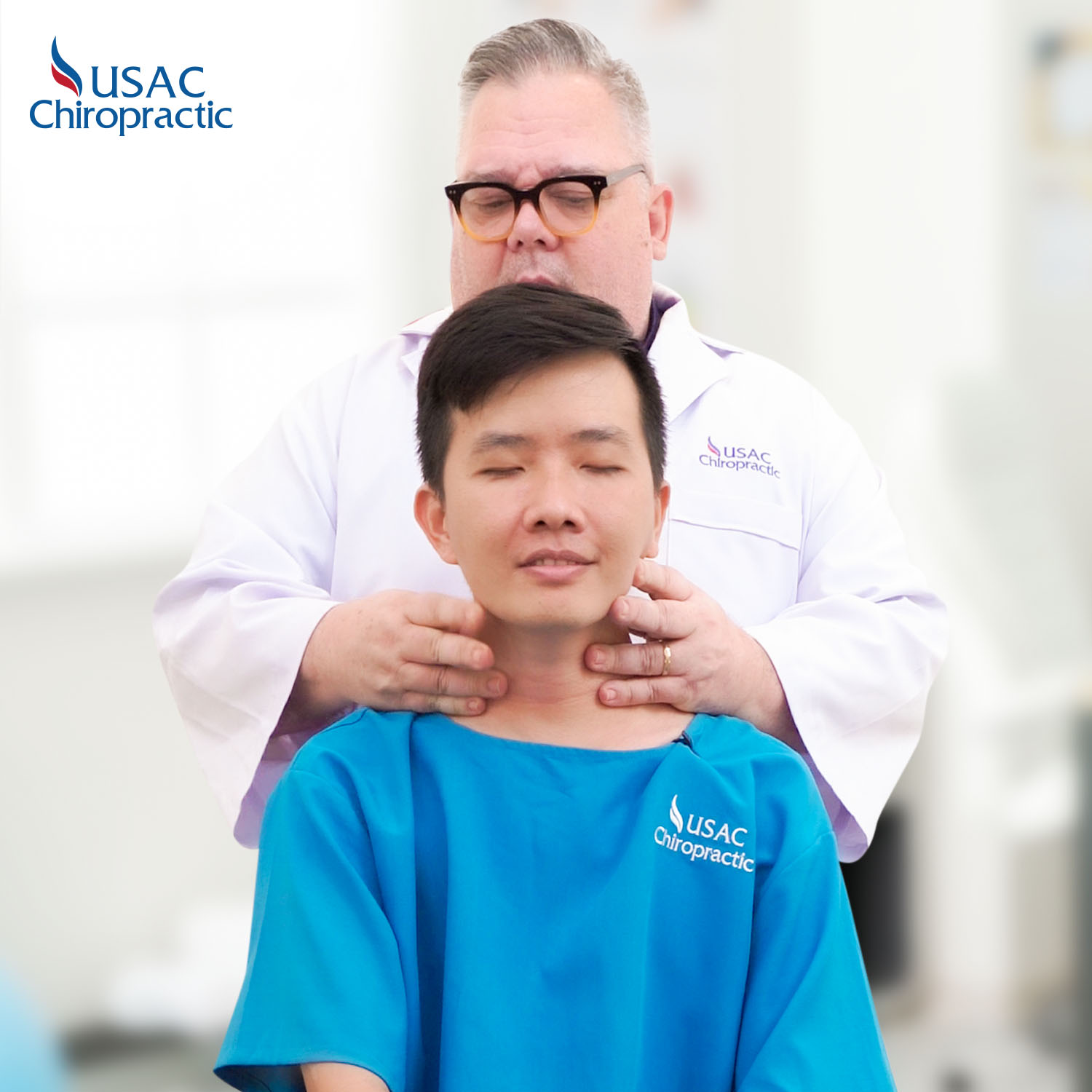 Chiropractic adjustment is performed with the correct technique and is completely painless
What Should Patients Do After Chiropractic Adjustment?
 Some patients may experience stiffness, soreness, and fatigue after chiropractic adjustment. To help you alleviate these symptoms, Dr. Dane from USAC Chiropractic provides the following five pain relief methods:
An essential step after each chiropractic adjustment is to hydrate properly. When the joints, muscles, and bones are repositioned, the body's detoxification mechanisms will be activated. Drinking enough water prevents the accumulation of toxins and the recurrence of pain.
Engage in Gentle Exercise
Combining exercise with a chiropractic adjustment can help reduce pain in the treated area. Gentle activities such as walking, swimming, or light cycling stimulate blood flow, increasing oxygen supply to the affected area. It supports and accelerates the healing process when starting the treatment.
However, you should not overdo these activities or engage in intense exercise, as they can impact the spine and cause injuries. Doctors and specialists will guide you on appropriate joint exercise or necessary adjustments to your lifestyle.
Maintain a Nutritious Diet
To facilitate faster recovery, you should supplement your body with healthy, nutrient-rich foods after chiropractic adjustment (avoid unhealthy and fatty foods). Providing the necessary nutrients helps expedite the healing of any injuries. On the other hand, unhealthy foods can promote inflammation in the body, increasing pain.
Pay More Attention to Your Body
 After the initial chiropractic adjustments, you may experience some unfamiliar sensations as your body adapts to the new stimuli. It is essential to closely monitor any changes in your body to detect and promptly address any unwanted symptoms.
Most of us sit for 8-9 hours a day for work. It negatively affects your posture. Try to avoid prolonged sitting immediately after the adjustment. Sit with good posture, hunched shoulders, feet flat on the floor, and keep your elbows close to your body. Turn it into a habit that benefits you.
After chiropractic correction, patients need to fully follow the doctor's instructions for care and exercise
Numerous studies in the USA and Europe have proven that spinal therapy is the most effective and safe treatment method for musculoskeletal and spinal disorders patients. However, properly implementing the techniques is a prerequisite for ensuring this safety. It is why the doctors at USAC Chiropractic undergo years of education and extensive practice in Chiropractic.
———————
USAC Chiropractic Musculoskeletal Treatment Hospital and Clinic Company Limited.
– 1-3-5 Tran Hung Dao Street, Nguyen Thai Binh Ward, District 1, Ho Chi Minh City.
– 305 Nguyen Van Troi Street, Ward 1, Tan Binh District, Ho Chi Minh City.
– Representative office in the US: 34959 Eastin Drive Union City, CA 94587
Fill in the information to receive 50% discount on fees

visit with a foreign doctor.
Chiropractic
•
Chiropractic hà nội
•
chiropractic tphcm
•
ĐIỀU TRỊ CƠ XƯƠNG KHỚP
•
usac chiropractic