USAC CHIROPRACTIC – 5-STAR AMERICAN STANDARD PHYSICAL FOUNDATION.
USAC Chiropractic is the first American-standard chiropractic clinic specializing in musculoskeletal, spinal therapy in Vietnam. It not only gathers the leading chiropractic doctors from the United States and Europe but also possesses a 5-star American-standard physical structure system, constantly pioneering in applying the latest machinery and advanced technology to provide specialized and effective healthcare services to patients.
USAC Chiropractic's Clinic System
As the first American-standard chiropractic clinic in Vietnam, USAC continuously develops and expands its clinic system nationwide. Currently, USAC has a system consisting of two treatment facilities in Ho Chi Minh City, serving the healthcare needs of customers most conveniently:
– Office 1: Located at 1 Tran Hung Dao, District 1, Ho Chi Minh City, including two reception rooms, two chiropractic treatment rooms, two high-tech treatment rooms, and 1 Physical Therapy treatment room, with a total area of 290m2.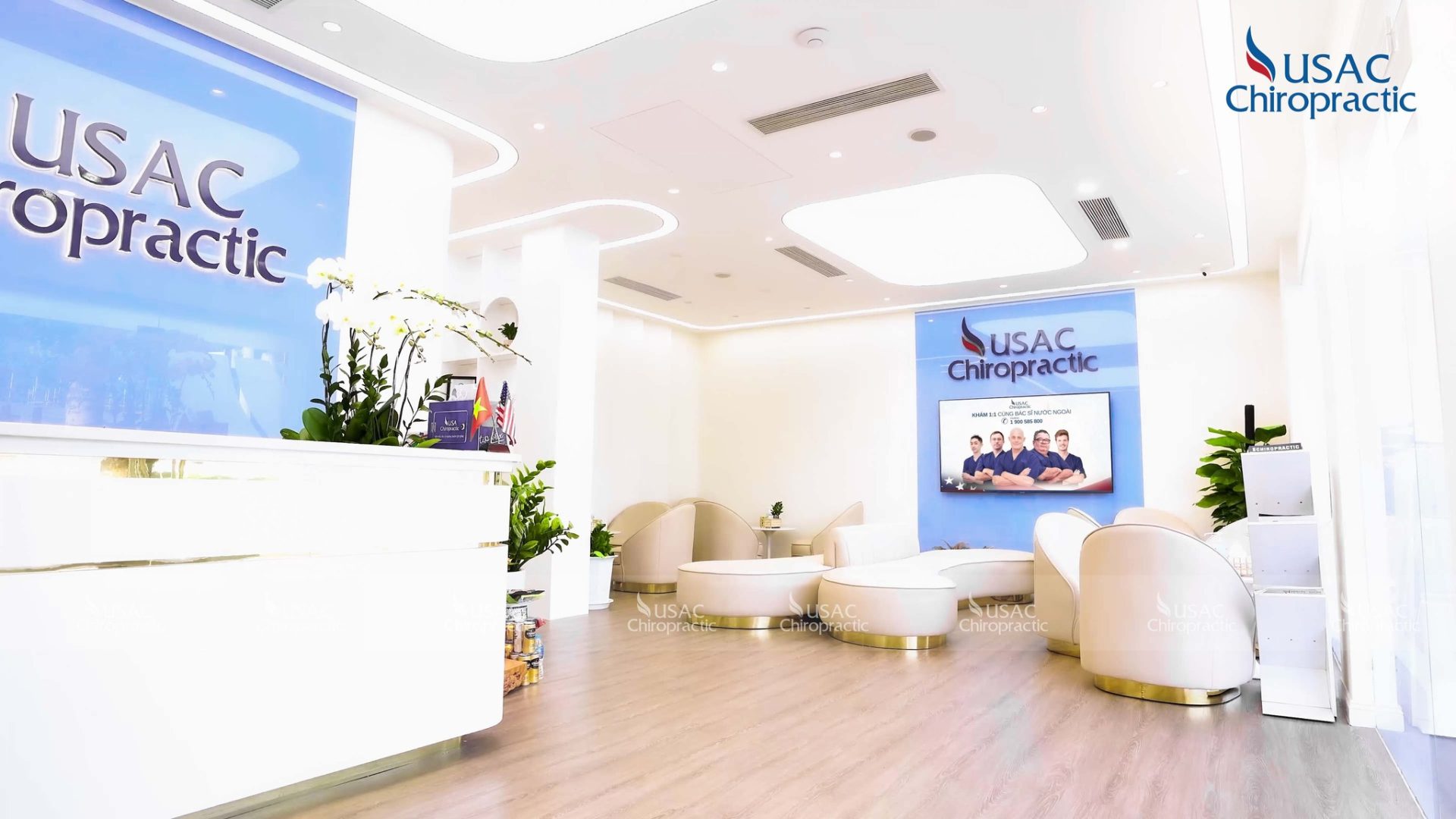 – Office 2: Located at 305 Nguyen Van Troi, Tan Binh District, Ho Chi Minh City, including two counseling rooms, two chiropractic treatment rooms, one high-tech treatment room, and 1 Physical Therapy Rehabilitation room, with a total area of 262m2.
All USAC clinics are situated in prominent and bustling locations in the central areas of the city, making it easy and convenient for customers to travel during their visit for examination and treatment.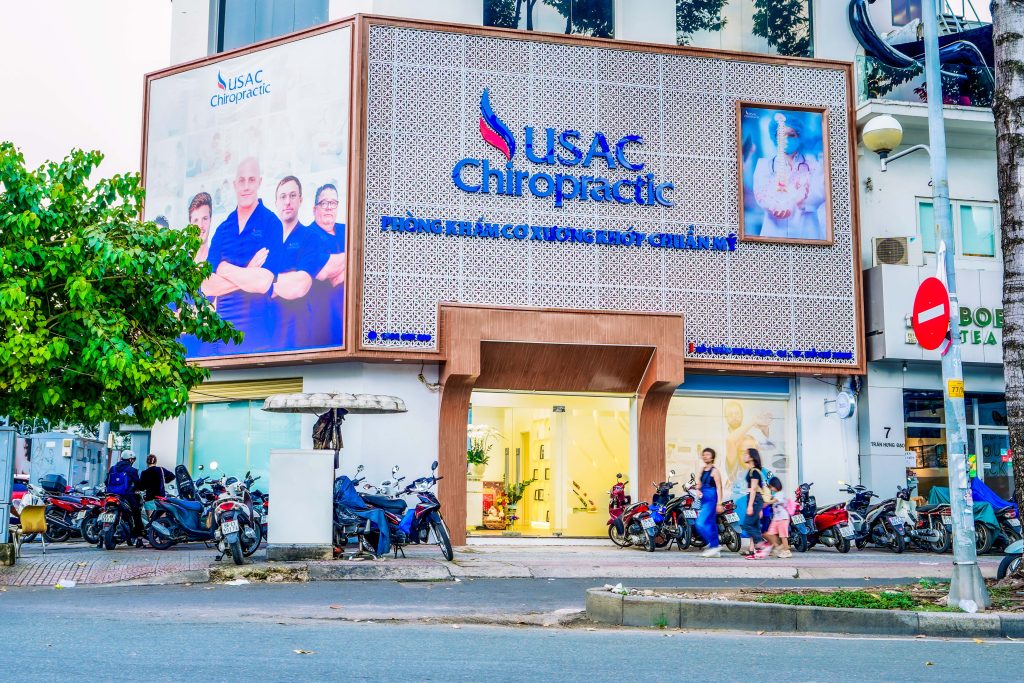 Modern American-standard Physical Design
All facilities in the USAC system are designed to meet top-notch standards to ensure customers' comfort and safety. The predominant color scheme of USAC is elegant and refined in shades of blue and white, creating a sense of professionalism and sophistication for customers. All rooms have high-quality air filtration systems and undergo regular disinfection to ensure a sterile environment.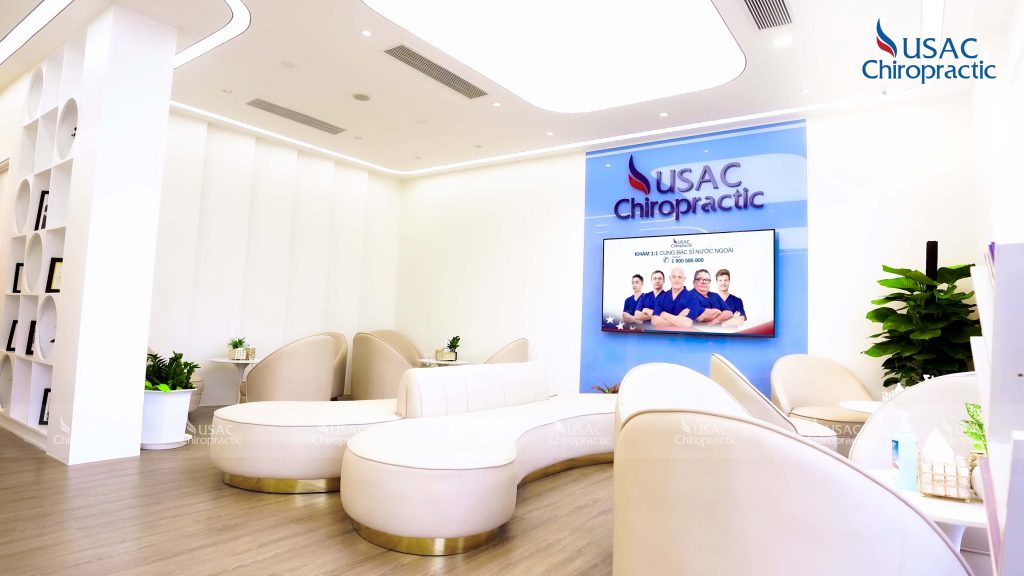 The spacious reception area is tastefully and elegantly decorated in shades of blue. It is where customers can sit and relax before and after their examination and treatment. Customers will be served tea and pastries during the waiting period to enjoy their most relaxing moments.
USAC has dedicated chiropractic treatment rooms staffed with foreign doctors. Here, customers can schedule appointments with leading foreign doctors specializing in musculoskeletal disorders and receive consultations on the most specialized and effective treatment protocols.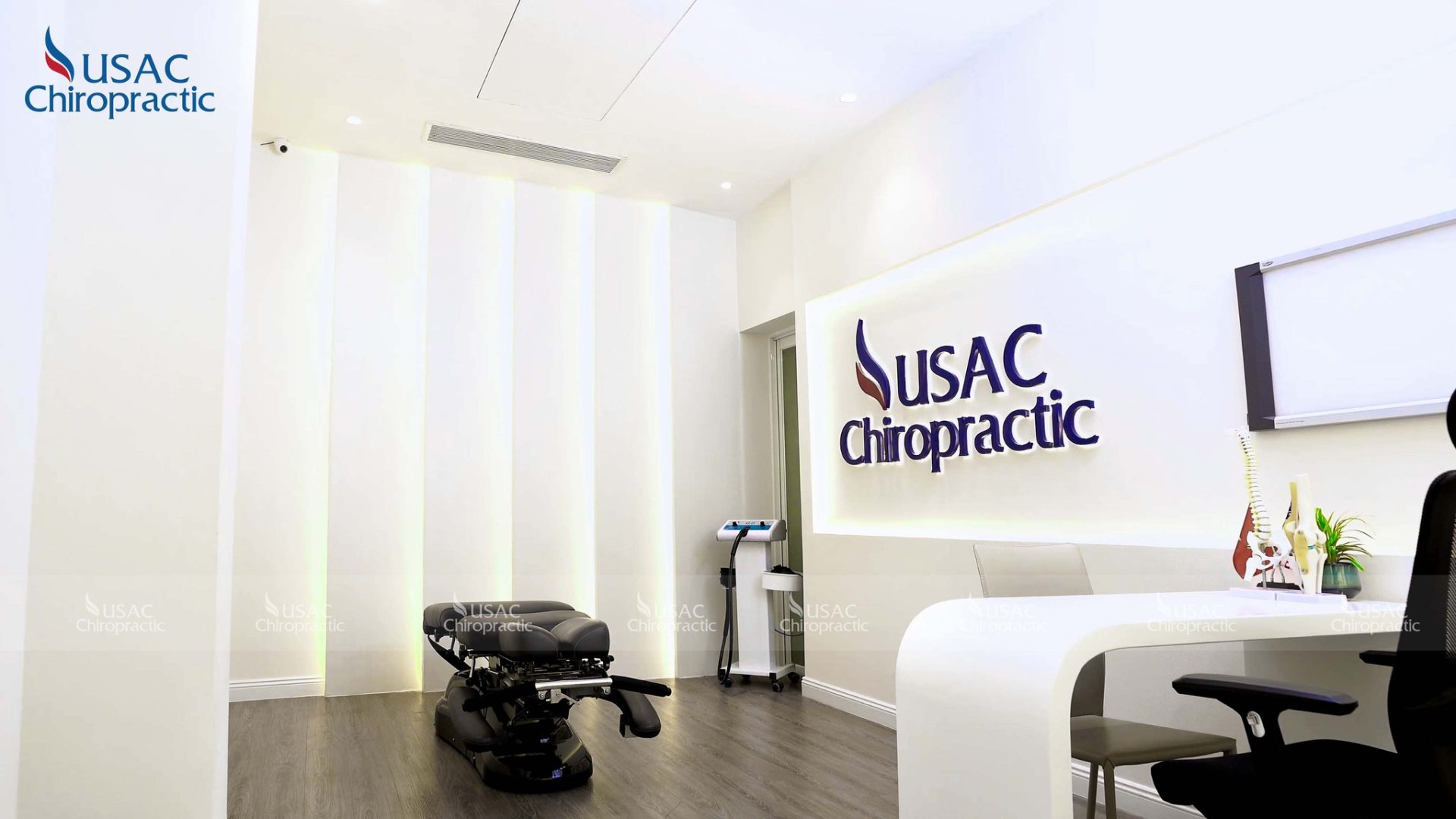 The chiropractic treatment rooms are equipped with modern examination machines that assist doctors in accurately analyzing the pathological condition and providing the most appropriate treatment protocols. The adjustable bed systems offer valuable support to doctors during the adjustment and therapy process for customers.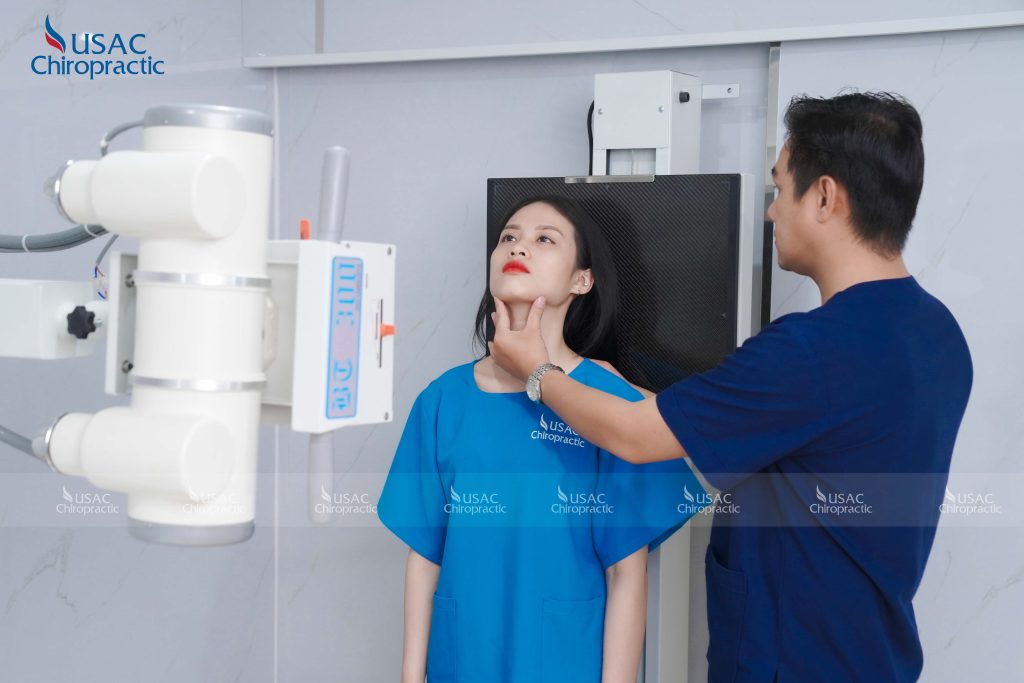 X-Ray Imaging Room and Reading Results: To enhance the patient experience and maximize the diagnostic-examination-treatment process for musculoskeletal and spinal disorders, USAC Chiropractic has implemented an X-Ray room according to International Standards with the most advanced technology available today, ensuring greater peace of mind for patients during the treatment process.
The high-tech treatment rooms are where the world's most advanced medical machinery and technology converge, such as Shockwave therapy, 4th generation Laser machines, combined electrostimulation and ultrasound technology, and DTS spinal decompression systems. These machines provide maximum support for the recovery and treatment processes of customers.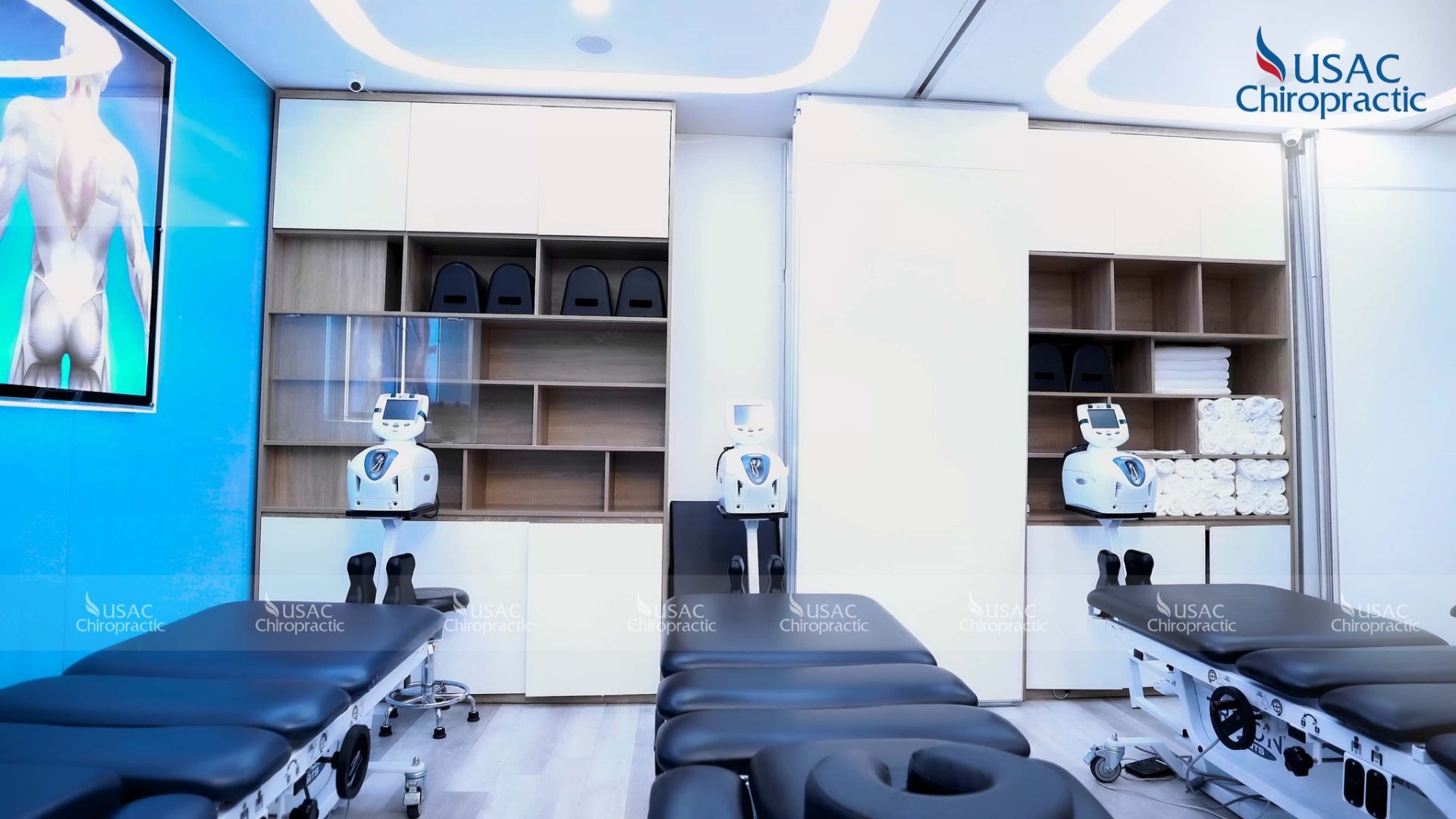 The Physical Therapy Rehabilitation room is where doctors instruct patients in performing physical therapy exercises and restoring motor function. This area is equipped with modern equipment to provide deep support for patients' training process.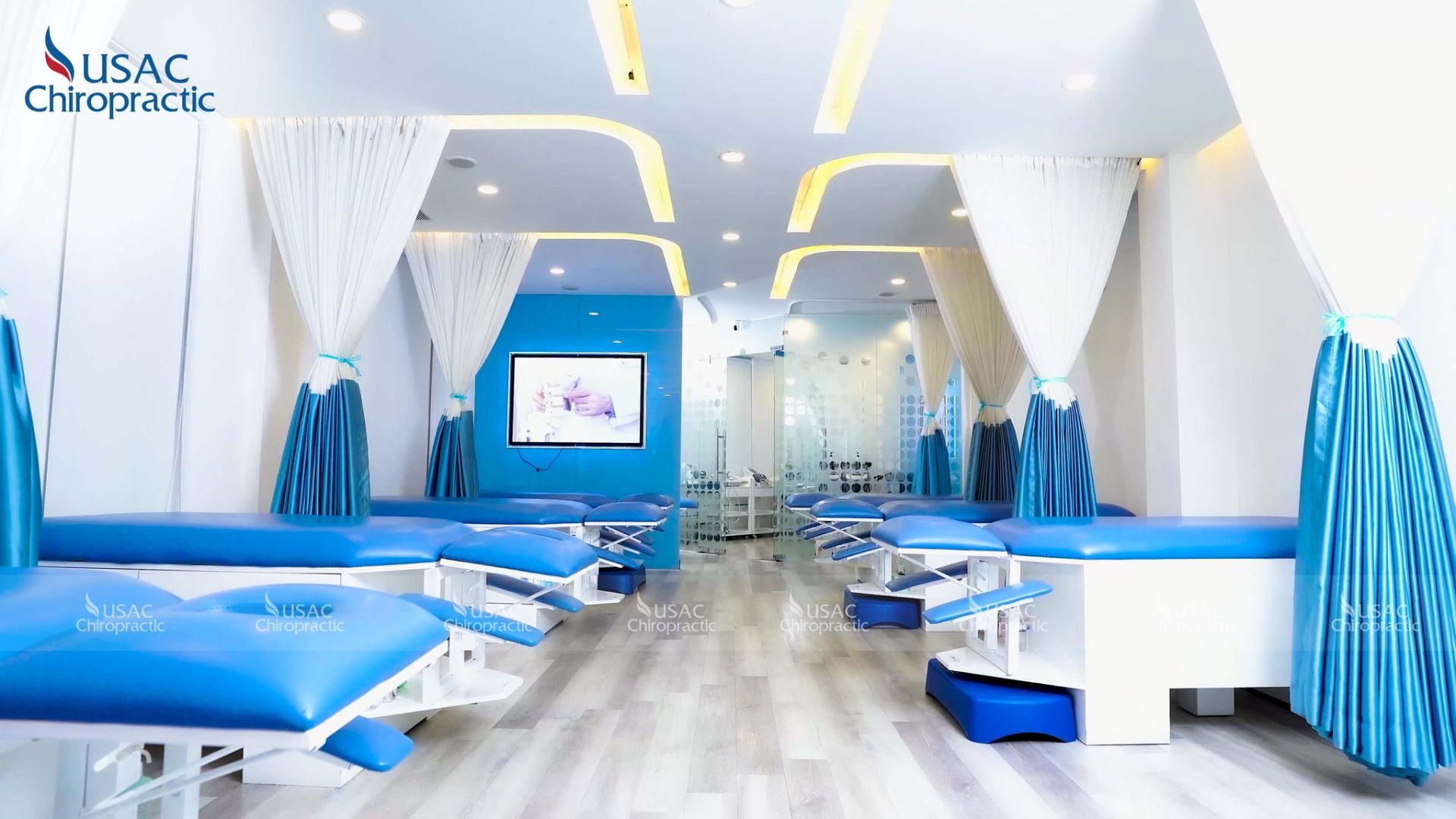 Equipped with the most advanced and cutting-edge machinery and technology in the world
In pursuit of becoming the first American-standard chiropractic clinic in Vietnam, USAC has invested in upscale physical facilities and equipped them with state-of-the-art medical machinery and technology. All equipment is 100% imported from the United States, meeting quality standards, ensuring safety, and accelerating the speed of recovery and treatment for customers.
Notable technologies include: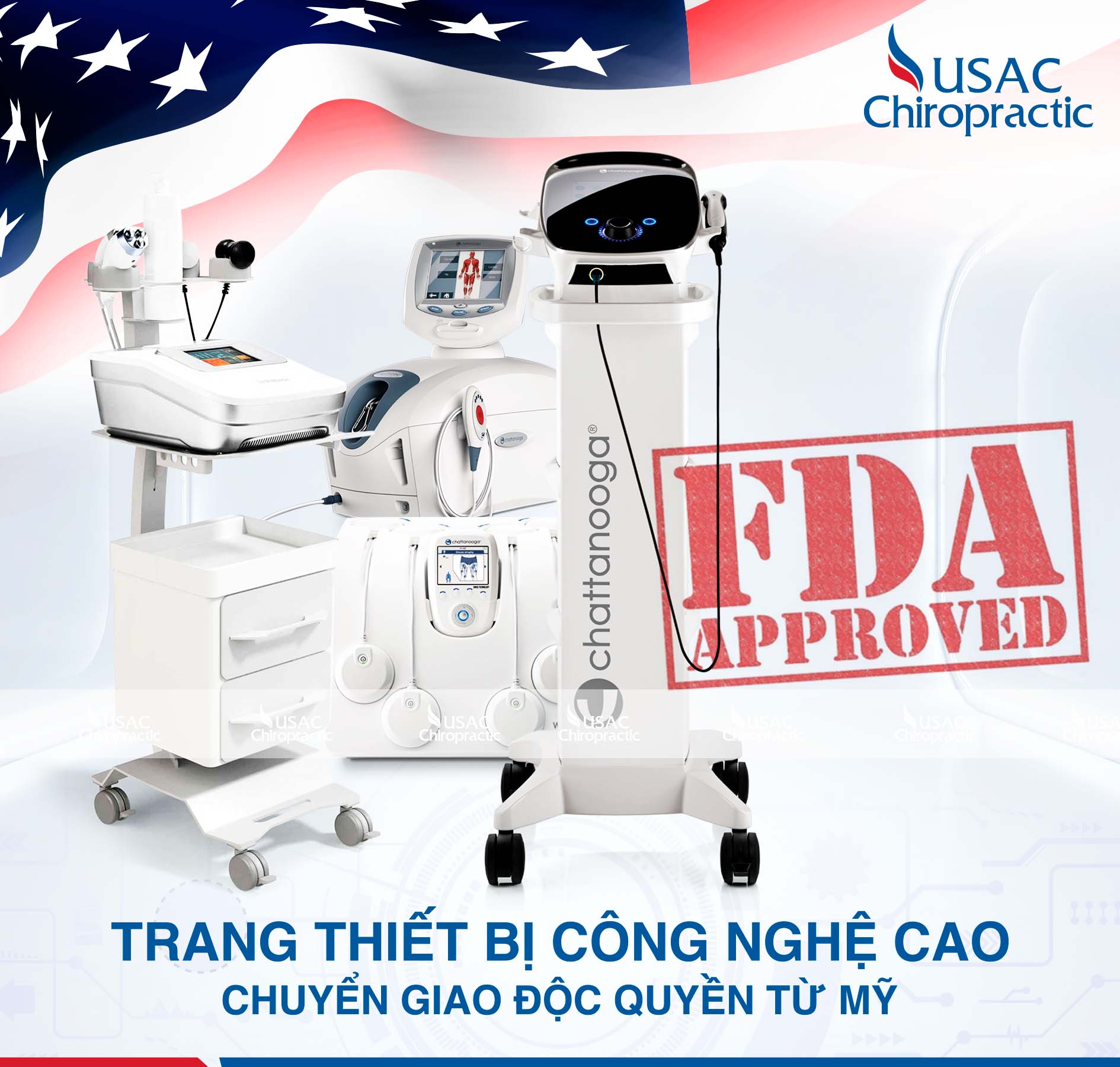 – DTS spinal decompression system with high-speed microprocessor control and absolute precision: The system is designed by American experts with five specialized stretching programs that can be customized for flexible stretching and resting periods. The device has 12 pre-programmed routines that help: expand the space between misaligned vertebrae, reduce pain, relax muscles, reduce pressure on intervertebral discs, restore disc structure, and preserve spinal integrity toward recovery.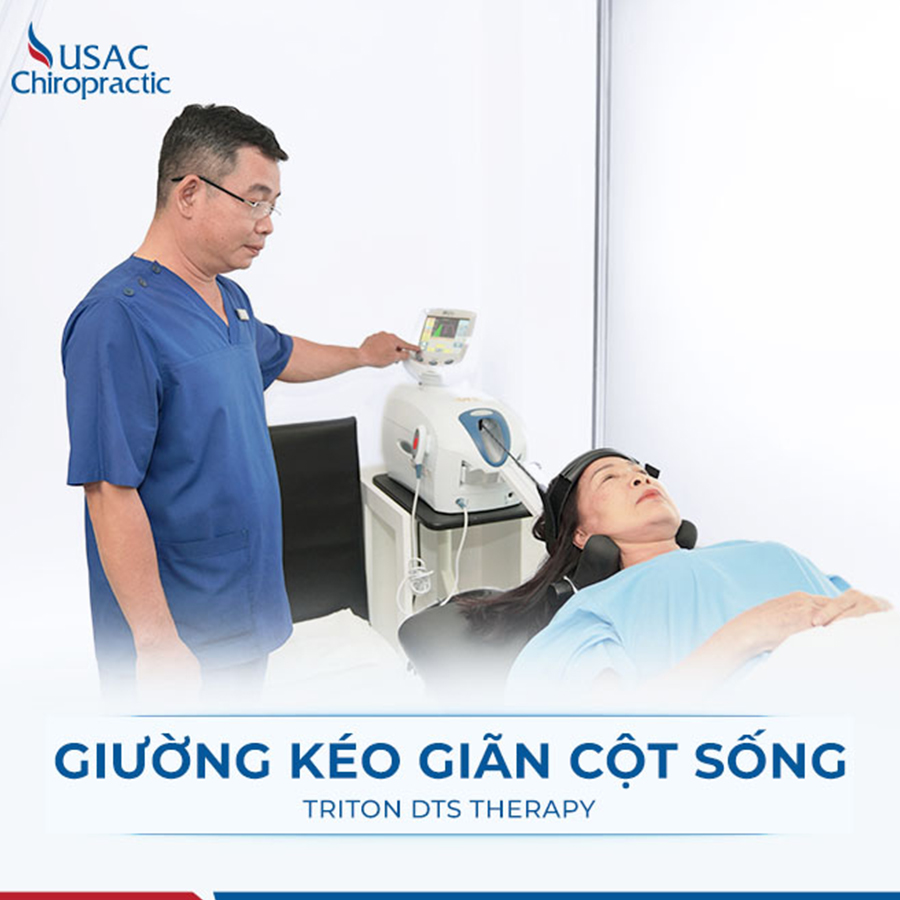 – Max Cool Pro multi-point pain reduction super technology: Provides immediate pain relief by delivering high-frequency electrical wave energy to generate heat, automatically targeting pain areas and deep layers of tightened muscles for complete healing. It accelerates recovery six times faster by stimulating local blood circulation and tissue regeneration.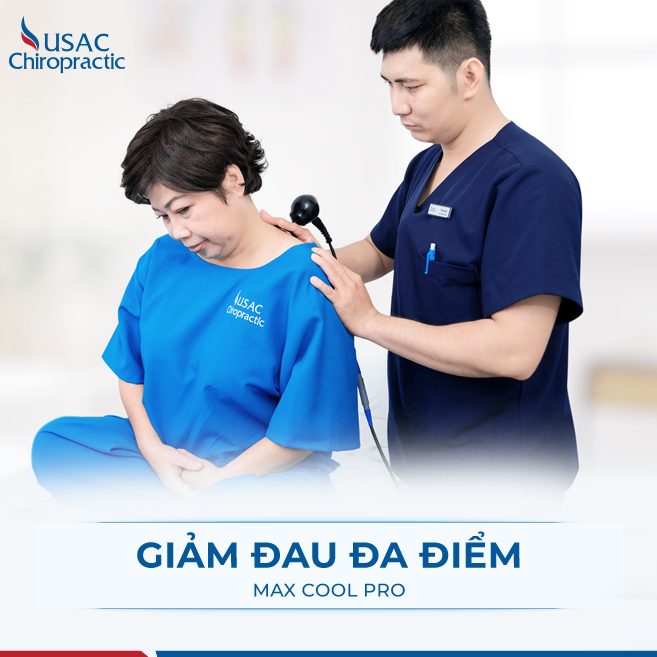 – 4th generation Laser machines with intensities up to 12W and ultra-wide wavelengths: Laser beams have the ability to penetrate any damaged tissue, promoting recovery from acute and chronic injuries and addressing the root cause of pain.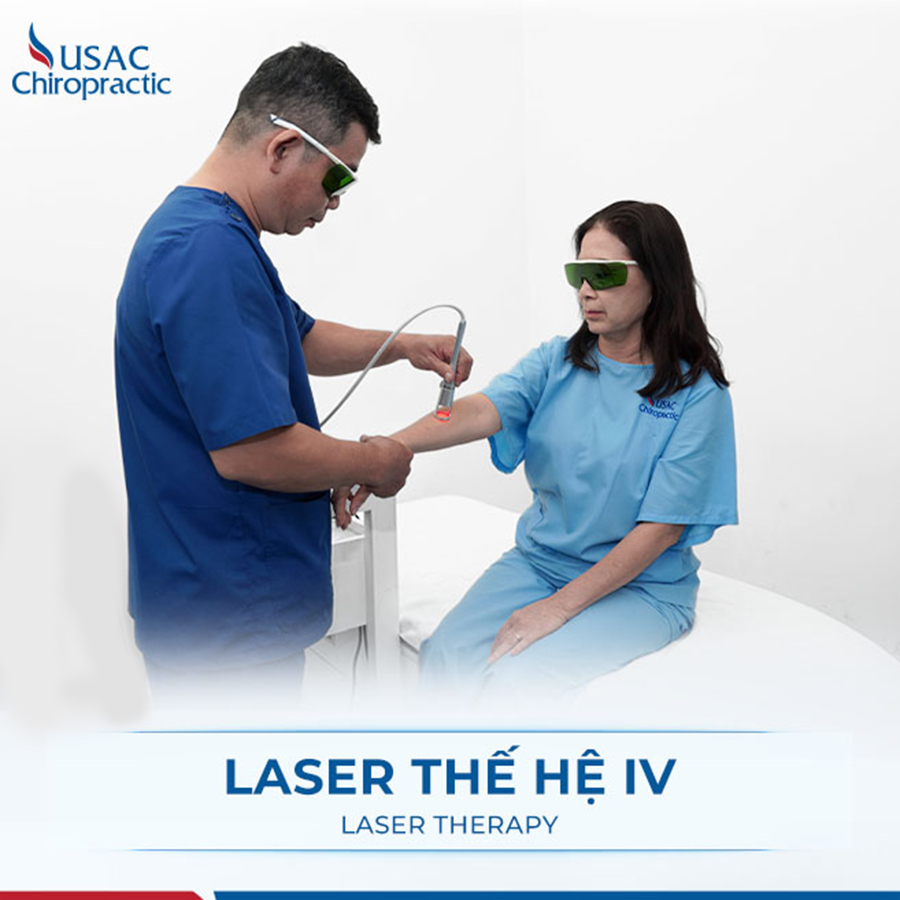 – Latest generation Shockwave therapy: Uses high-energy sound waves to impact deep muscle tissues beyond the reach of manual treatment, effectively reducing pain and inflammation, instantly relieving muscle stiffness, increasing muscle strength, and accelerating the recovery process.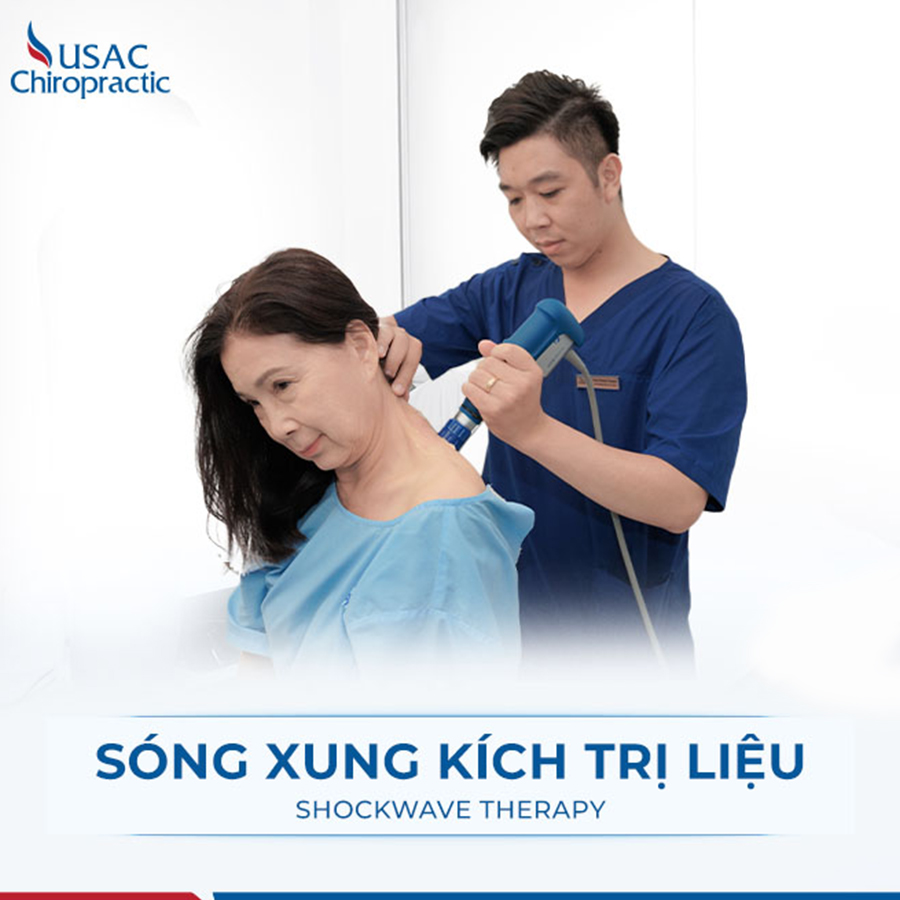 – Combined electrostimulation and ultrasound technology: Uses low and medium-frequency electrical pulses to stimulate acupuncture points, nerves, Etc., helping to eliminate muscle stiffness and spasm, reduce inflammation, and improve blood and nutrient circulation for nourishing damaged tissues.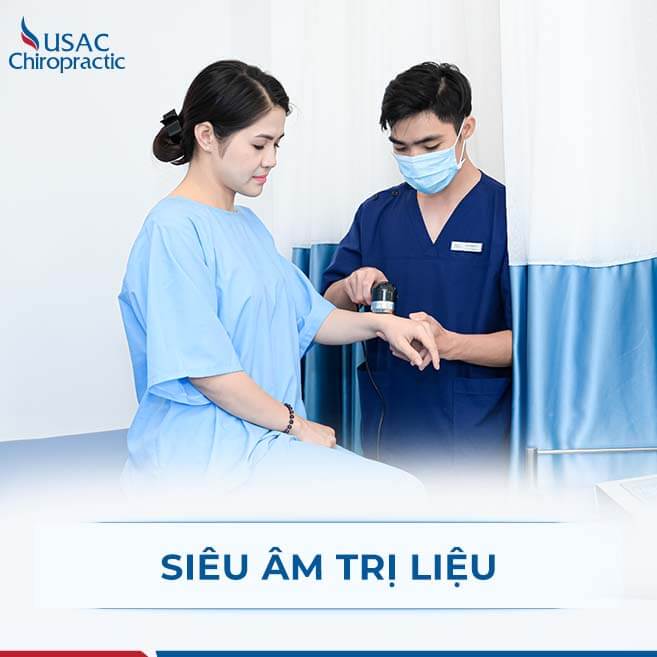 – AI Tesla technology: Cutting-edge magnetic wave therapy for musculoskeletal disorders, exclusively transferred from the leading European Healthcare Corporation – Iskra Medica, deeply affects bones, connective tissues, and deep muscle structures, regulating and restructuring dysfunctions in the body.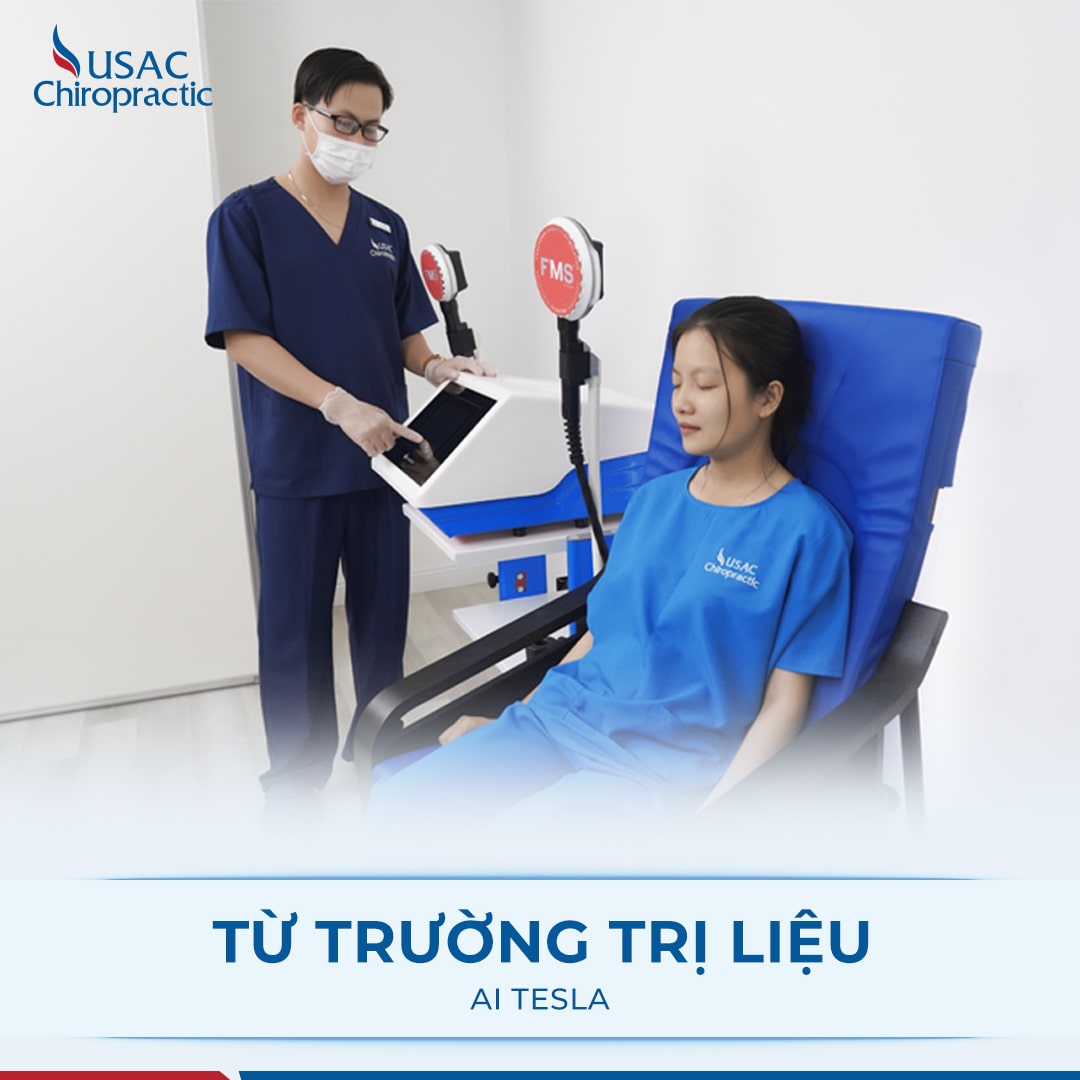 All devices are fully optimized to accelerate the recovery process, reduce pain, and effectively treat musculoskeletal disorders for customers.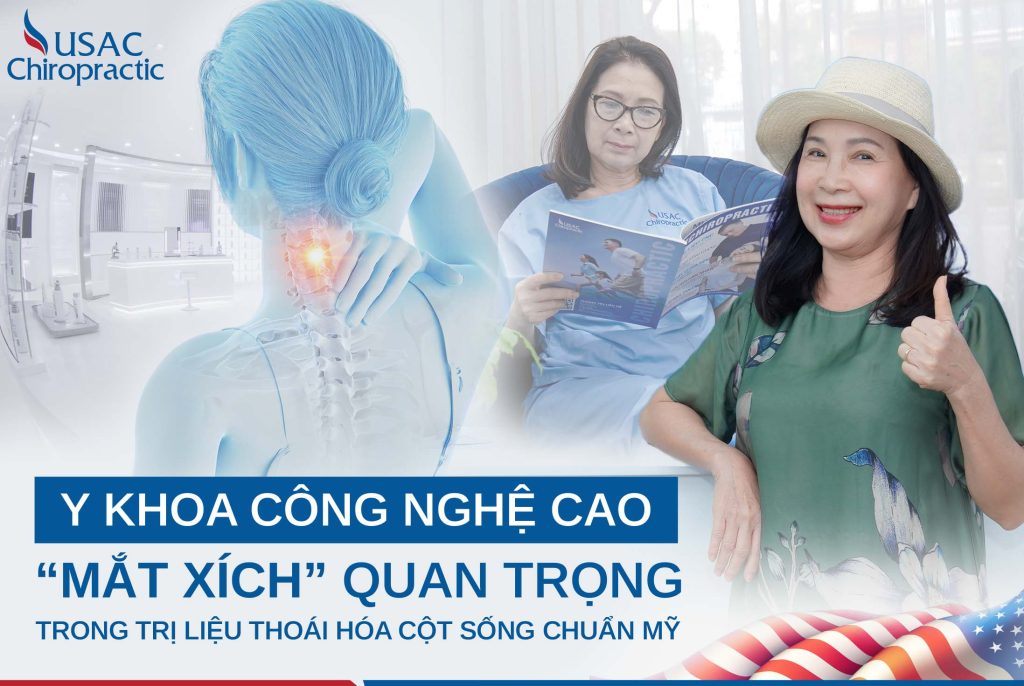 With its luxurious and modern 5-star American-standard physical structure, a safe and friendly medical environment, and high-quality services, USAC Chiropractic has become a trusted address for caring for and treating musculoskeletal disorders of customers nationwide. Up to now, USAC has successfully treated over 50,000 patients with herniated discs, sciatica, spinal degeneration, spinal curvature, neck and shoulder pain, and knee pain.
---
USAC Chiropractic Musculoskeletal Treatment Hospital and Clinic Company Limited.
– 1-3-5 Tran Hung Dao Street, Nguyen Thai Binh Ward, District 1, Ho Chi Minh City.
– 305 Nguyen Van Troi Street, Ward 1, Tan Binh District, Ho Chi Minh City.
– Representative office in the US: 34959 Eastin Drive Union City, CA 94587
Chiropractic
•
Chiropractic hà nội
•
chiropractic tphcm
•
usac chiropractic